Description
Happythought's 7 magnificent printable gift box sets:
Perfect for special gifts or for party favors!
Over 30 patterns and cutouts.
Easy to follow instructions.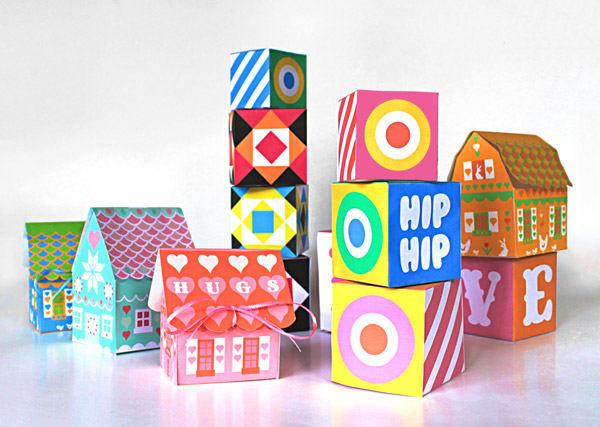 YOU WILL RECEIVE:
7 HIGH RESOLUTION (300 dpi) PDF templates of the following:
1) Barnyard gift box templates
2) Cookie gift box templates
3) Geometric cube gift box templates
4) Gingerbread house gift box templates
5) Happy cube gift box templates
6) Valentine gift box templates
7) Love cube gift box templates

The 7 gift box set printable templates are digital PDF files. All the gift box templates come with easy to follow instructions on assembling the boxes.
Please note this digital file will be sent to your email address – we won't print or ship to you! The files will be available for immediate download as soon as your payment clears.
Click here or the image below to add to your Happythought shopping cart!

Check out in more detail the gift box templates below:
31 boxes – Happythought's 7 printable gift box templates – Dimensions
Cookie Box set
2 larger boxes, perfect for homemade cookies and treats.
16cm x 10.8.5cm x 13.5cm.
Geometric cube set
6 bright, geometric cubes, great for party favors or little gifts.
6x6cm.
Happy boxes set
6 gorgeous graphic gift boxes in 3 sizes and 2 color ways.
4.8×4.8cm, 6x6cm. 8x8cm.
Love cube box set
3 lovely boxes, perfect for a special or romantic gift.
4.8×4.8cm, 6x6cm. 8x8cm.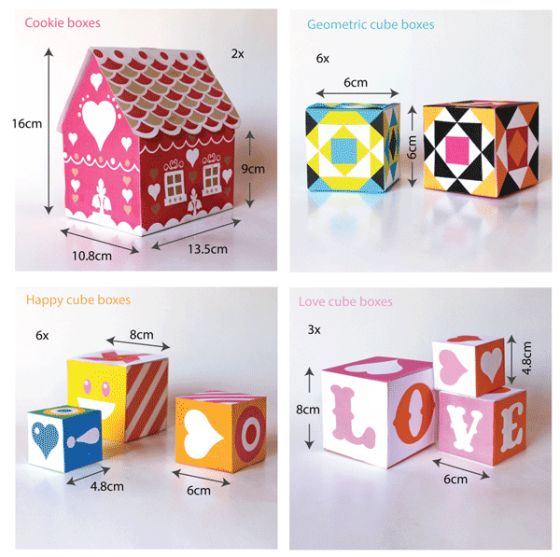 Valentine box set
4 cute little cottages for Valentines day.
2 sizes – 8×5.2×6.5 cm and 11.5×7.5x9cm.
Barnyard box set
6 perfect for Easter favors, barnyard party or for wedding favors.
2 sizes – 9×5.7×7.8cm and 11×7.5×10.4cm.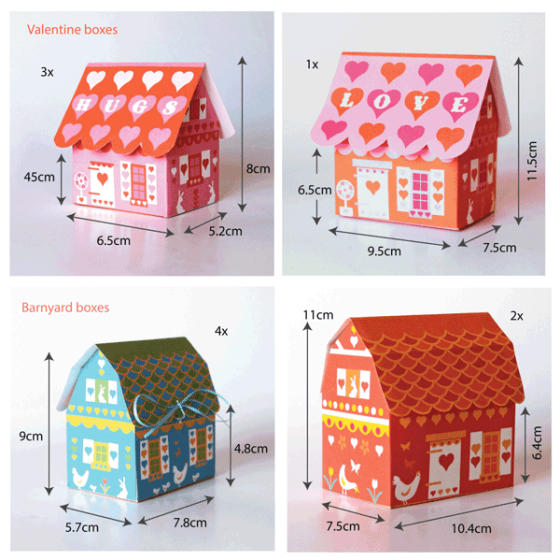 Gingerbread gift box set
4 little gingerbread gift boxes for the festive season, can also be hung in the tree.
Sizes: 1) 9×5.8×7.5cm 2) 8.5×5.5 x7cm 3) 10×5.8×7.5cm 4) 10.2×5.8×7.5cm.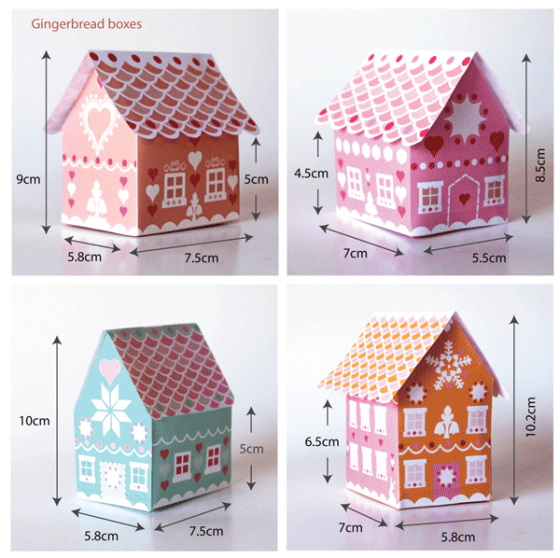 We hope you enjoyed our printable gift box templates!
If so, please give us a little love; by liking us on facebook, pinning us on pinterest or following us on twitter. Thank you!