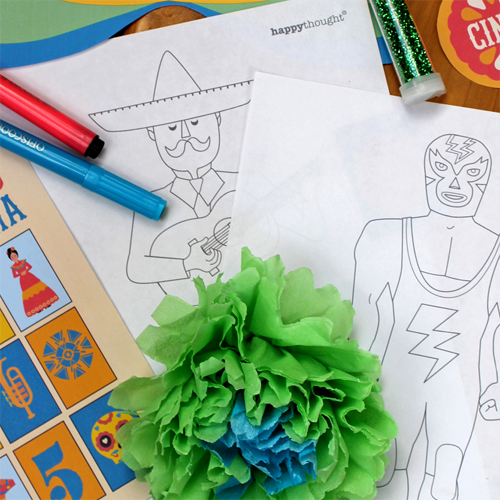 Cinco de Mayo holiday activities!
To help celebrate a Cinco de Mayo fiesta we have created these fun, downloadable coloring in sheets for kids, featuring a marvellous Mariachi, a lovely luchador and a pretty pinata.
Print them out for your party, or as a fun and easy way to introduce Cinco de Mayo celebrations to your child. How do you celebrate Cinco de Mayo?
10 printable worksheets for schools, home schools and learning centres.
Two Introduction pages – 'What is Cinco de Mayo?' and 'How to celebrate Cinco de Mayo?'
Three questions and answers – Map of Mexico, Crossword puzzle, Find the missing words.
Word search – 12 words to find.
Mexican flag – Color-in and make a Mexican flag.
Three color-in worksheets – A mariachi, a luchador and a piñata shaped as a donkey.
Our worksheets contain activities and questions about Cinco de Mayo appropriate for children at the level of kindergarten, elementary, first grade, 2nd grade, 3rd grade, 4th grade and middle school. All Q&A worksheets include answers. The ten printable PDF sheets are designed for teachers and parents and we have produced them in black and white so that they don't use too much toner when printed or copied.
More Cinco de Mayo ideas and activities…
Also included in our Cinco de Mayo offerings are printable Luche Libre masks, and a How to make a pinata tutorial with a printable piñata template.
You can find out a little about the history of this fun celebration and the answer to 'What is Cinco de Mayo?'.
We hope you enjoy the Cinco de Mayo coloring in sheets! If you have any feedback or comments we would love to hear from you or us a little love if it's your thing! facebook, pinning us on pinterest or following us on twitter.