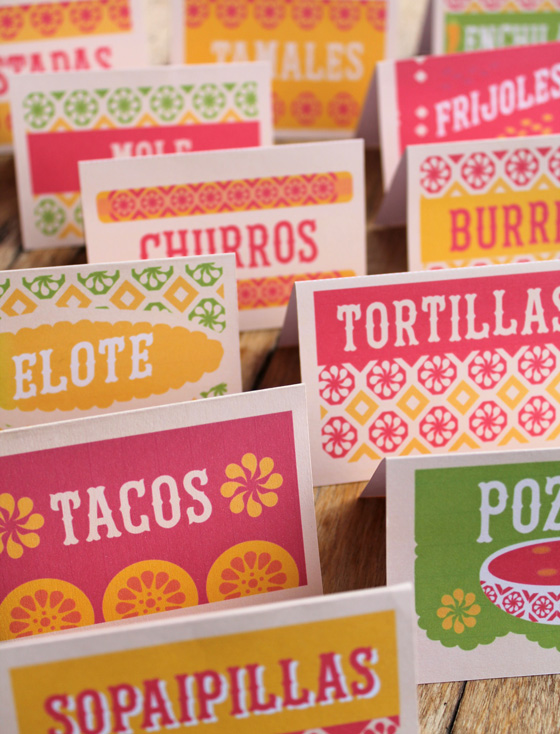 99 Printable Mexican food signs to present your best dishes to your guests
Are you're planning on rustling up some yummy Mexican party dishes for Day of the Dead or Cinco de Mayo this year? Why not print out our printable classic Mexican food signs? They'll look great on your party table and will let your guests know what they are about to tuck into.
There are ninty-nine food and drink signs to download and the set includes the following some of the popular Mexican dishes – Guacamole, Tacos, Enchiladas, Tostadas, Burritos, Mole, Tamales, Sopailpillas, Churros, Pozole, Tortillas, Frijoles and Elote.
There are also three extra cards that we have left blank so that you can add other favorite dishes, or use them as place cards. They are really easy to make – all you need to do is download them, then print, cut and fold each sign. You can print as many as you like!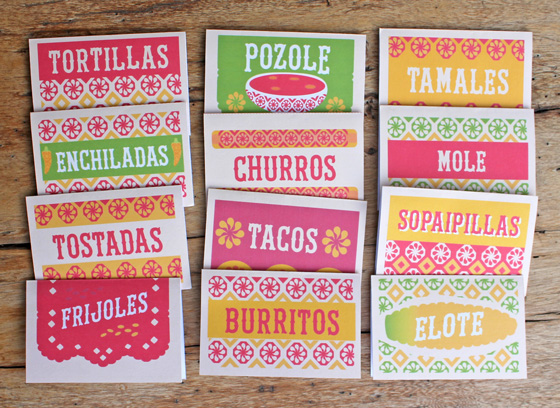 Download printable PDF food signs here – https://happythought.co.uk/product/mexican-food-drink-signs
99 printable Mexican food signs
Ready for the fiesta with some of our favourite appetisers, dishes and drinks – Guacamole, Pico de Gallo, Tortillas, Pozole, Tamales, Sopaipillas, Tacos, Burritos, Mole, Churros, Frijoles, Enchiladas, Tostadas, Elote, Pollo Asado, Arroz con Leche, Fajitas, Chili con Carne, Chilaquiles, Totopos, Chimichangas, Quesadillas, Nachos, Ceviche, Bollilos, Caldo, Bandarillas, Aguachile, Pico de Gallo, Pan de Muerto, Mangonada, Palomitas, Granita, Michelada, Tejuino, Paletas, Tres Leches, Salsa Chipotle, Camotes, Chicharron, Chile Relleno, Tacos al Pastor, Chalupas, Cocadas, Huarache, Taquito, Sope, Carnitas, Conchinita Pibil, Gorditas, Tlayuda, Atole, Birria and more!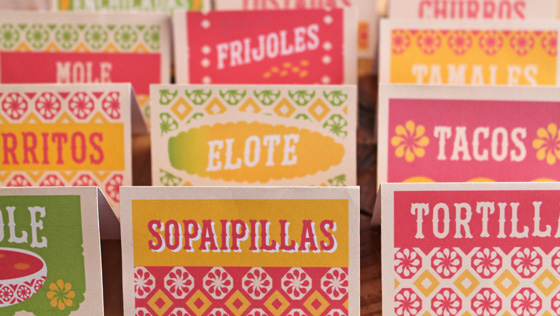 Our designs were inspired by classic Mexican hand painted tiles, hand painted signage, and by old Letterpress poster prints from Lucha Libre wrestling fights.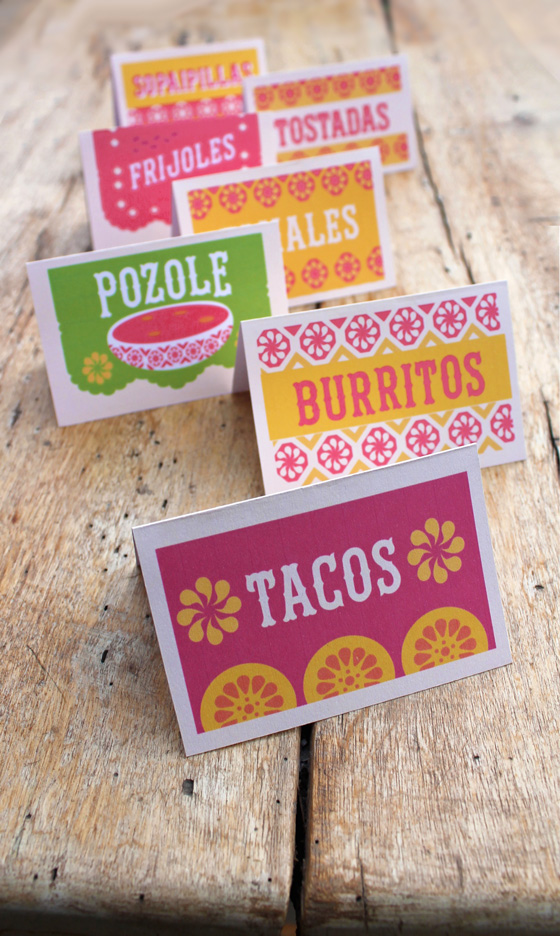 You might also like these food and drink recipes for El Dia de los Muertos:
Guacamole
Orange Granita
Spicy Pico de Gallo
Delicious Spicy Popcorn
Spicy Chocolate Cupcakes
Traditional Pan de Muerto
Refreshing Mexican lemonade
Agua Menta Naranja
Tasty Raspberry Mojitos
Heart warming Mexican Spiced Wine
A classic Tequila Sunrise
Juan Collins
You can find the printable food and drink signs to download here.
You might also like?
We hope you enjoyed our classic Mexican food signs templates! If so, please give us a little love; by liking us on facebook, pinning us on pinterest or following us on twitter. Thank you!