Description
How to make a mini piñata – Easy homemade DIY photo tips, video instructions and free mini piñata template
Party DIY mini piñata templates are simple to make with our easy to follow photo and video tutorials. Use your DIY skills and our easy free template to make fabulous and affordable decorations.

You can use the free to Happythought members mini piñatas in table decorations, party games or as fiesta favors.
How to make a mini piñata templates and video tutorial
This fully functioning mini piñata has a pull string. Tested by the kids, we can report that it works beautifully!
To make your DIY piñata at home you will need:
Crepe paper or crepe festoons (4 different colors)
Scissors
A glue stick
Colored string or ribbon
Small candies and treats
Happythought printable mini piñata template
Homemade DIY mini piñata templates: Easy to assemble decorations (Photo tutorial + free to members template)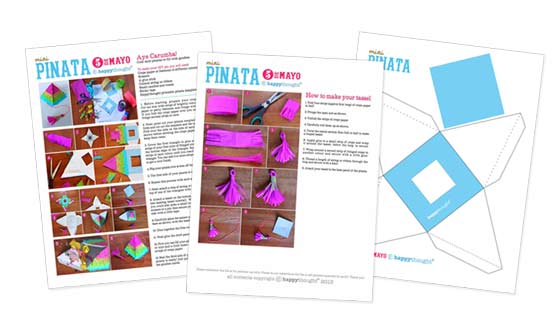 To receive your easy DIY papel picado templates just click here to add the free to members templates to your cart. See more details in the CraftClub. It's easy!
We hope you enjoyed our free and easy mini pinata template! If so, please give us a little love; by liking us on facebook, pinning us on pinterest or following us on twitter. Thank you!