Description
Brighten up any space with these vibrant Mexican Lotería inspired crafts!
These Mexican Lotería cards are a vibrant and iconic addition to any fiesta. Just print the templates of your choice and follow the easy instructions to create these vibrant lotería inspired crafts.

This printable pack features food and drink inspired by Day of the Dead recipes, include La Sandia (watermelon), El Aguacate (avocado), El Jalepeño, La Naranja (orange), La Piña (pineapple) and El Elote (sweetcorn). Be sure to check out or Happythought printable lotería game.
Fantastic craft projects featuring beautiful and iconic L
otería

imagery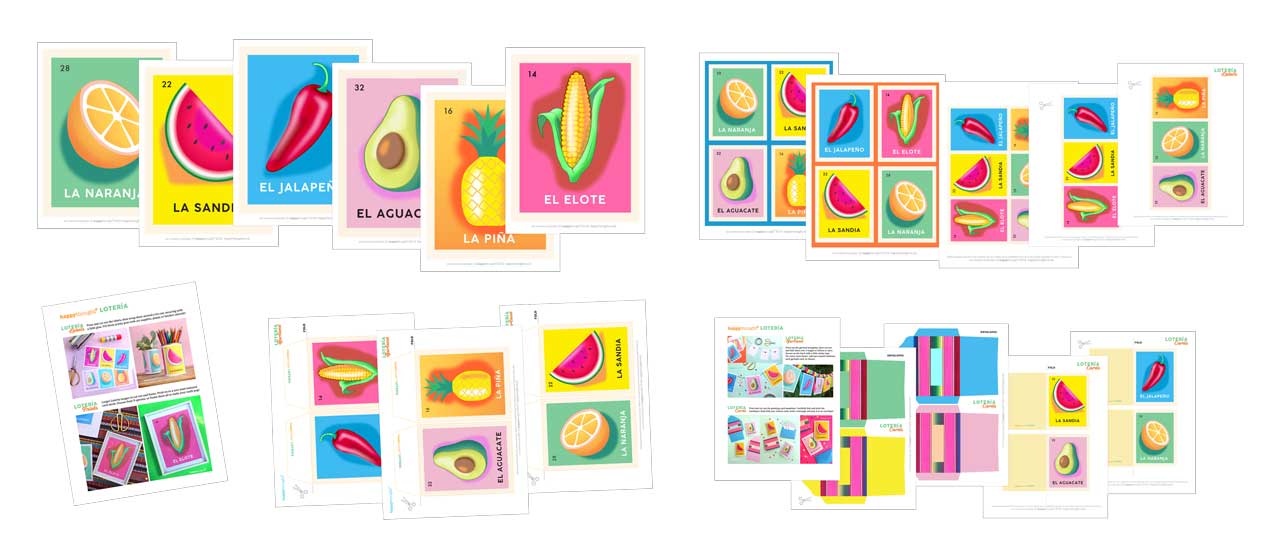 Lotería printable craft pack – you will receive:
4 HIGH RESOLUTION (300 dpi) PDF FILES containing the following templates:
• 2 DIY Lotería tin label storage decorations
• 9 DIY Lotería wall art prints
• Printable Lotería inspired garland
• 4 Printable Lotería greeting cards or invites
Exclusive to the Happythought CraftClub, these fun and colorful printable templates are free to download for Happythought members.
Have fun! These printable templates are very flexible – you can create a colorful garland to decorate your home or for a fiesta spread, tin can labels for useful, stylish storage, eye catching DIY wall art for your home, or greeting cards or party invites. Why not make all 4 of these easy, fun craft projects? These craft templates are also perfect for decoupage.
Looking for our Printable Mexican Lotería game:
Inspired by Mexican Lotería cards, this printable pack includes lotería prints, a garland, can labels and greetings cards!
Project 1 : Lotería Labels
Print and cut out the labels, then wrap them around a tin can, securing with a little glue. Fill these pretty pots with art supplies, plants or kitchen utensils!
Project 2 : Lotería Prints
Larger Lotería images to cut out and frame. Print on to a nice matt textured card stock. Choose from 9 print options, or frame them all to make your walls pop! Great to give as a gift too!
Project 3 : Lotería Garland
Print out the garland templates, then cut out and fold them over a length of ribbon or yarn. Secure on the back with a little sticky tape. For extra 'wow factor', add colorful yarn tassels between each lotería garland card, as shown. Beautiful hanging in your home or for a party.
Project 4 : Lotería Greeting Cards
Print out and fold the greeting card and envelope templates. Fold the cards, write your message and pop them in an envelope! You can also use these colorful fun lotería templates as invitations to a fiesta. Hand write each card for an invite that your guests will treasure!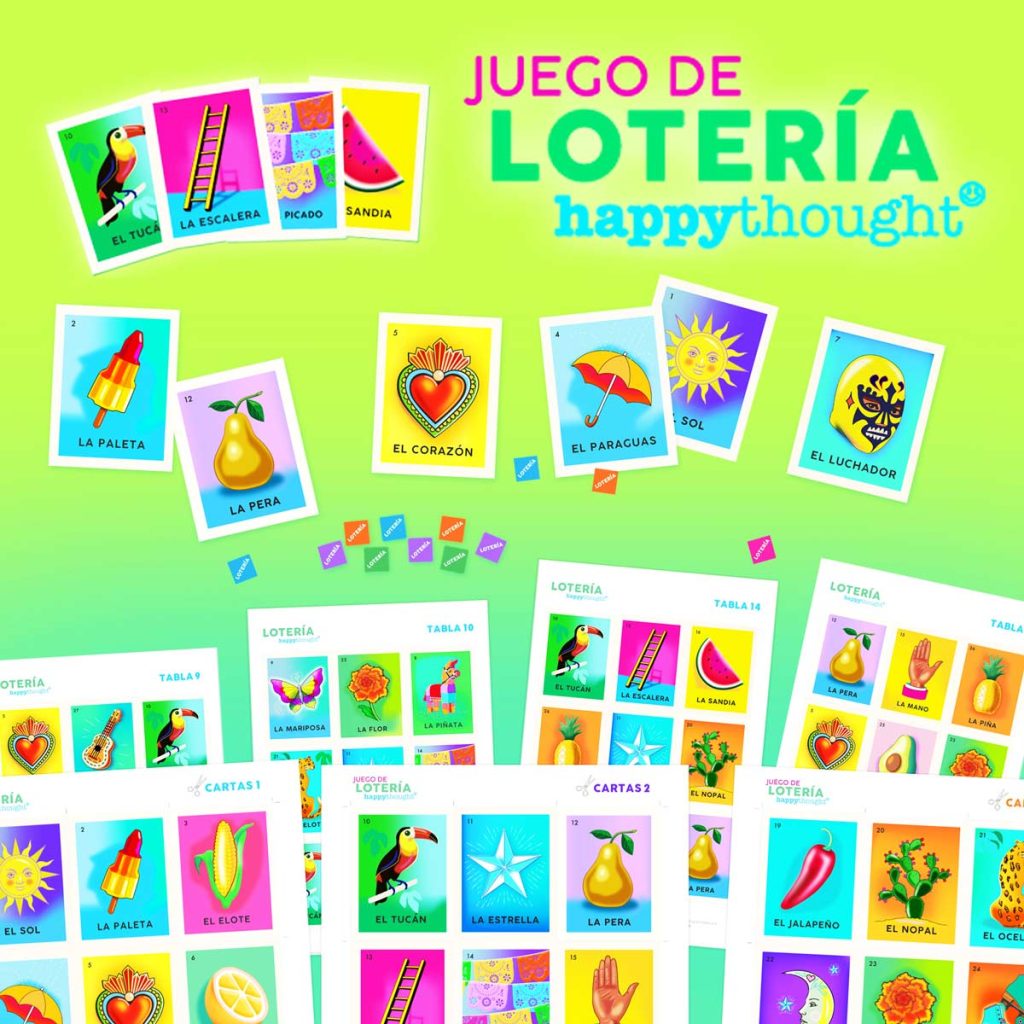 Printable Mexican Lotería game
Printable Mexican Lotería game for some quality family fun time at home.
---
• 27 lotería cards
• 20 lotería tablas or boards
• Counters
• Easy to follow instructions
A little bit more history about this game of luck
Lotería is a traditional game of luck, similar to bingo, but using images on a pack of cards instead of numbers on balls. Each image has a name and an assigned number. To start, the players select at least one tabla, a board with a 4 x 4 grid of pictures showing their corresponding name and number. The players mark a matching image on their board mark it off with a chip or small marker. The first to complete a line of four chips in a horizontal, diagonal or vertical row, or to fill the tabla first shouts "Lotería!" and is the winner!
Don Clemente Jacques published a lotería game in 1887. The colorful images used in this set have become iconic in Mexican culture, as well as in the US and Europe.
These brand new printable pdf templates are free to download to Happythought Members, as a part of the Happythought CraftClub. You can join up for Happythought Membership here. You can find lots of fun PDF projects, exclusive to Happythought members, including masks, craft projects, templates and more!
Great printable templates
You might also like some of our other great printable templates. Mini DIY Easter Holiday ideas, Day of the Dead craft activity pack, Tiger mask pattern templates and our popular Lucha Libre mask set.
Be a dog with these Dog mask templates, DIY koala mask patterns to make, cute cat mask templates, Day of the dead cat mask design and our free to members fox mask pattern and tutorial. The mask templates come with costume idea for each mask.
Festive Holiday crafts, St Patrick's Day Lucky Leprechaun cottages, make your own Butterfly Papel Picado, printable crafts, DIY video tutorials and fun downloadable printable PDF templates.
We hope you enjoy these Happythought Mexican Lotería cards. Be sure to join the Happythought CraftClub here to get creating today! If so, please give us a little love; by liking us on facebook, pinning us on pinterest or following us on twitter. Thank you!