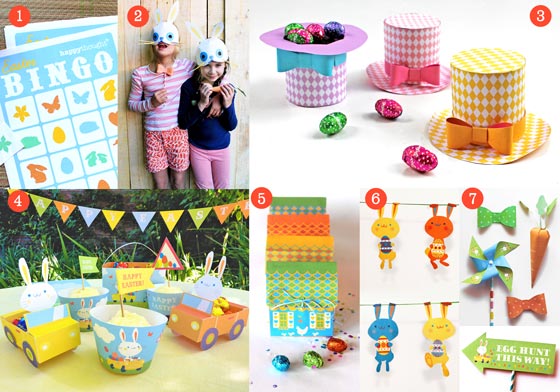 Easter Holiday ideas: Freebies, activities printables and templates!
So, it's nearly Easter! Yippee! Need more Easter printables and craft ideas?
Here are 7 Easter Holiday ideas and some Easter templates to download, to help you with your Easter preparations. We've rounded up some of Happythought's Easter freebies and printables.
1) Printable bingo game: Easter Holiday ideas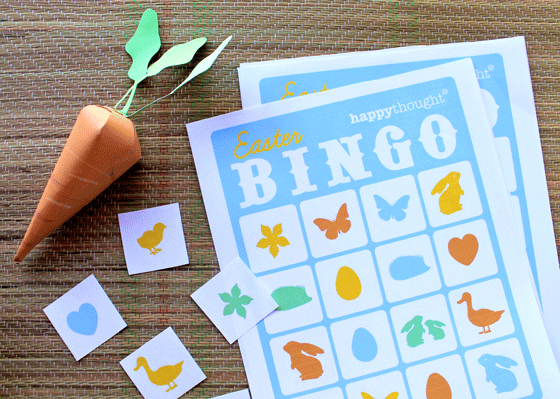 Download 10 Bingo cards, 36 caller card templates to print and cut out.
The game templates include easy to follow instructions for playing this free printable Easter Bingo game.
---
2) Bunny mask templates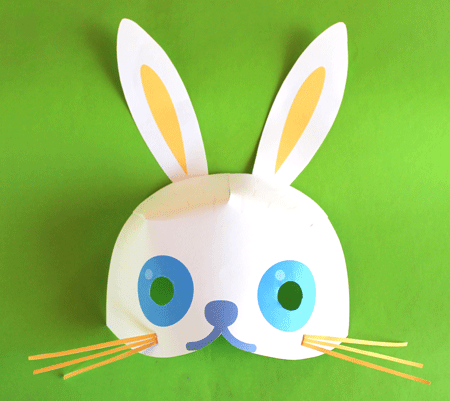 Dress up as a bunny or rabbit with Happythought's easy to make Easter bunny mask templates.
---
3) Easter mini top hat templates
Five stylish hats to make in fun, fresh pastel colors. These diamond mini top hats are super cute – perfect for dressing up any party outfit. The hats come in five colors of sky blue, buttercup, charcoal, pink and lilac. Follow the easy instructions included in your download and print, snip and stick your way to style!
---
4) Happy holiday Easter Bunny printable pack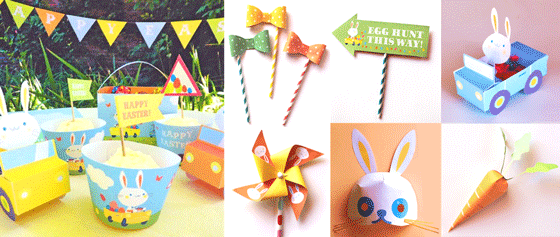 Invitations, easter baskets, mini bunting, cupcake toppers and wrappers, gift tags, photo props. bow ties, pinwheels, Easter hunt arrows and Easter bunny masks.
---
5) Barnyard gift boxes – Gift box template set!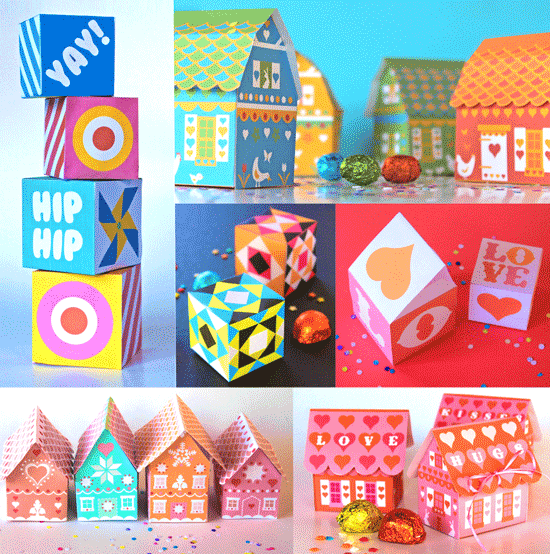 A collection of over 30 gorgeous printable gift boxes. Perfect for special gifts or for party favors! The sets included are Barnyard boxes, Cookie cottages, Geometric cubes, Gingerbread house boxes, Happy cubes, St Valentine's cottages and Love cube gift box templates.
---
6) Free printable bunny garland (500 to give away!)
Each cute and colorful Easter bunny is holding a yummy Easter Egg ready to hide in the garden. These good natured bunnies are very happy hanging around by their bunny ears waiting for Easter day. Cuteness!
We have 500 garlands to give away! For a chance to win a free Easter Bunny garland, just join the Happythought mailing list – it's easy!
Just fill in your details below
Click the Submit button
We will instantly email you the templates!
We won't share your details with anyone and you can unsubscribe from the Happythought mailing list at any time.
Please read our Privacy Policy
Oh bunnies! We have reached the download limit of 500 downloads for this printable Easter Bunny Garland. Better luck next time! Still want the garland? See more details below...
You can also find the Easter Bunny garland templates as part of Happythought's Easter Bunny party pack. 
Use the discount code RABBIT to claim 50% off the Easter Bunny garland plus 15 more fun Easter downloads!
Click here – https://happythought.co.uk/product/easter-bunny-printables
7) Happy holiday Easter Bunny printable pack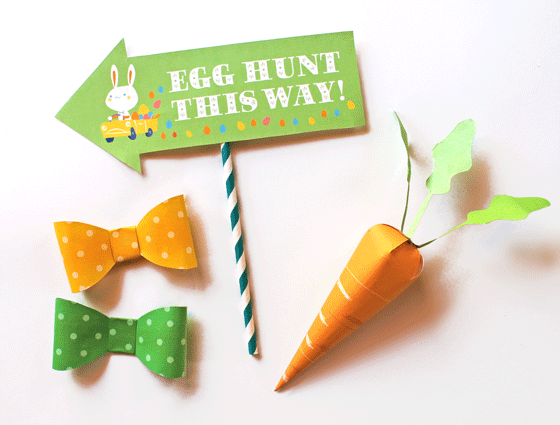 All you need for some Easter fun: Invitations, easter baskets, mini bunting, cupcake wrappers and toppers, gift tags, paper carrots, fun photo props, pinwheels, Easter hunt arrows and Easter bunny masks.
We hope you enjoy our Easter Holiday ideas. If so, please give us a little love; by liking us on facebook, pinning us on pinterest, google or following us on twitter. Thank you!