Product Description
Looking for fun London printable activity ideas about London for the classroom or at home?
We've created 3 fun London learning activities especially relevant to anyone teaching London primary school students. All the PDF templates are easy and simple to make with clear instructions to follow. We have designed the colouring in templates in black and white to be economical on your printer and toner. Perfect for printable kid's crafts, teacher resources in class, home school or family craft days!
---
London paper craft activities, printables and worksheets:
32 PDF tutorial worksheets!
YOU WILL RECEIVE:
London activity pack contains the following PDF templates/patterns:
1) Print and make your own London town – 10 PDFs

---
2) Print, color-in and make your own London town – 10 PDFs

---
3)  Learn a bit about London with these London printable activity worksheets – 12 PDFs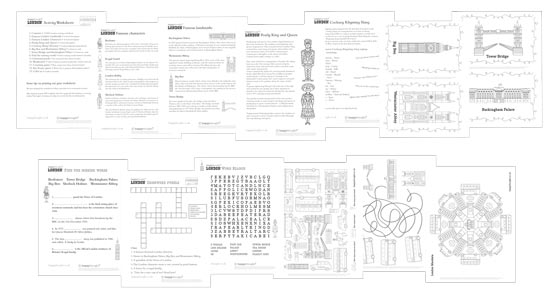 A brief description about some of London's famous landmarks and characters.
Short history on the London Pearly King and Queen traditions.
A few London Cockney rhyming slang phrases.
Big Ben, Westminster Abbey, Tower Bridge and Buckingham Palace colour-in flash cards.
Games and puzzles: Find 7 missing words, a crossword puzzle, wordsearch featuring London landmarks, vehicles and characters.
Counting game • How many taxis, buses and post boxes?
Quick game • Which bus is going to Buckingham palace?
Color in • London mandala
All the files are optimised as a HIGH RESOLUTION PDF (300 dpi) US letter format.
---
Affordable teacher resources, London classroom activity pack: Includes printable papercraft landmarks and characters from London. A color-in version plus games, puzzles, and learn about London worksheets.
Our digital templates are designed to be easy to make. We like it simple too!
Beautifully crafted party items and favors at a fraction of the price!
---
Please give us a little love; by liking us on facebook, pinning us on pinterest or following us on twitter. Thank you!