Category: Day of the Dead
Day of the Dead or El Dia de los Muertos printables, crafts, recipes, games and activities…

Day of the Dead or El Dia de los Muertos craft activity ideas and classroom worksheets, printables, scrapbooking and prints for your home.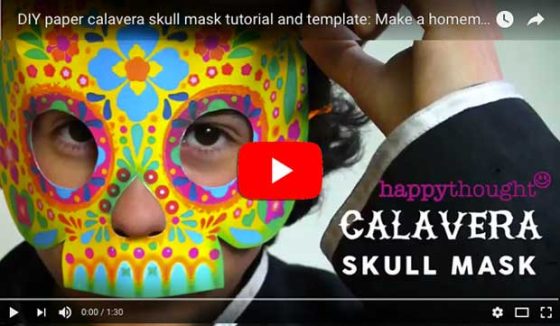 Press play to watch how to make a paper calavera skull mask;
---
Printable Day of the Dead centerpiece, 3 easy DIY papel picado templates, and a cute nicho craft template with simple to follow instructions.
Color in calavera sugar skull mask activity, Day of the Dead worksheets in Spanish and English,  stunning paper star ornaments and how to make your own paper flower corona or crown.
Check these popular Day of the Dead printables, activities, craft templates. Easy to follow DIY templates to print.
You can use them in table decorations, flower arrangements or as fiesta favors.
Posted on
Turn heads on Day of the Dead or el Dia de los Muertos!
Posted on
Prepare and served with a warm cup of hot chocolate!
Posted on
Easy to make cute sugar skull cat masks. Step-by-step video tutorial + 2 templates!.
Posted on
These butterflies flutter beautifully in the wind and would look great at a fiesta, wedding or as a decoration in your home!
Posted on
Day of the Dead party or just if you are a cactus lover!
Posted on
Easy and fun to make Russian Doll Day of the Dead garland!
Posted on
Ready for the party with stylish Mexican food signs!
Posted on
How to make a delicious Curried banana soup: Ready in just 20 mins!! This curried banana soup recipe was passed on by my Uncle Andy as I was about to enter my first year at Glasgow School of Art. The dish was my perfect student meal, low cost and quick to make. The combination of[…]See more here
Posted on