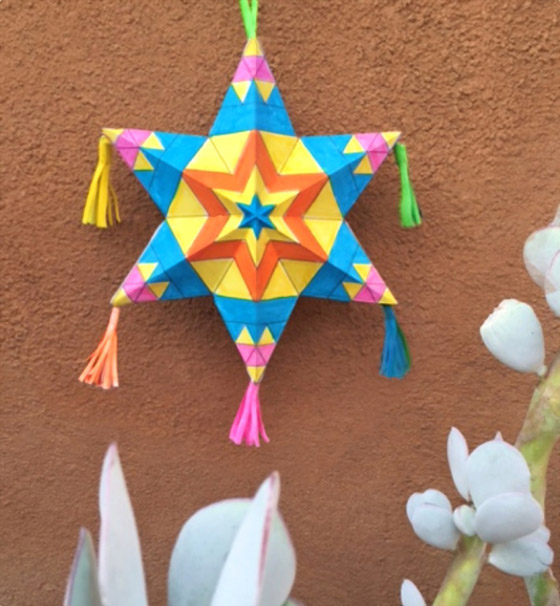 Make these stunning Mexican paper star ornaments as decorations and class activities for Cinco de Mayo!
Mexican paper star ornaments are Inspired by Mexican star pinatas and by the beautiful Moravian tin star lanterns made by Mexican artisans. You could also attach your star decorations to a string of fairy lights to make a garland of teeny-tiny star lanterns.
We have provided three colorful templates for you to use, or why not create your own using the black and white template as a starting point?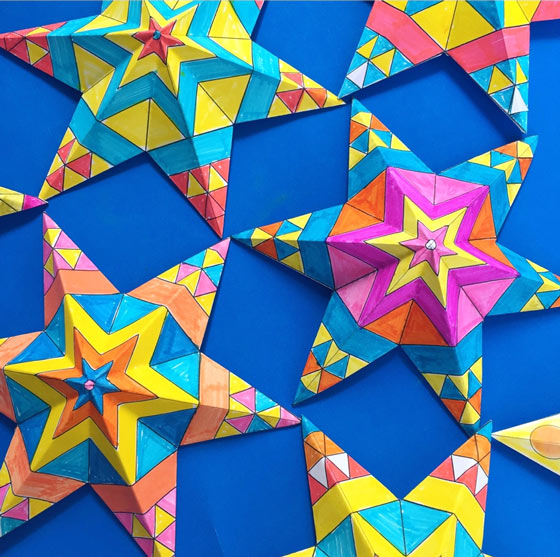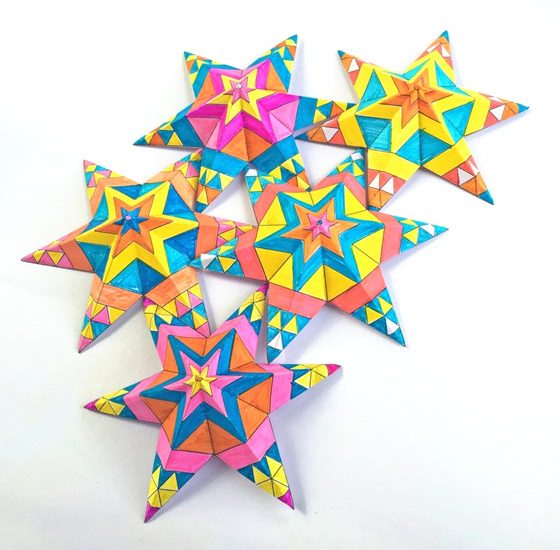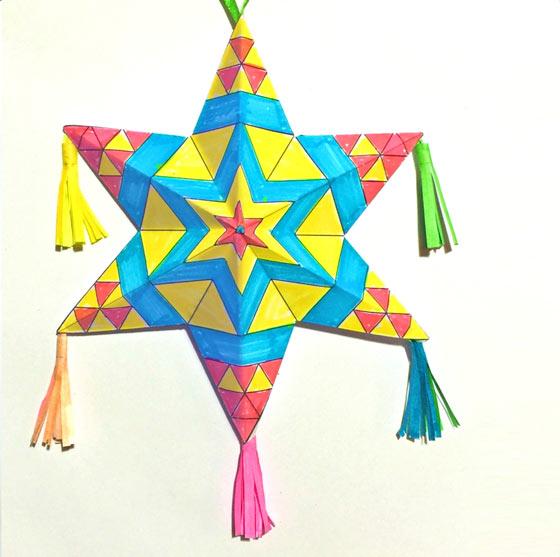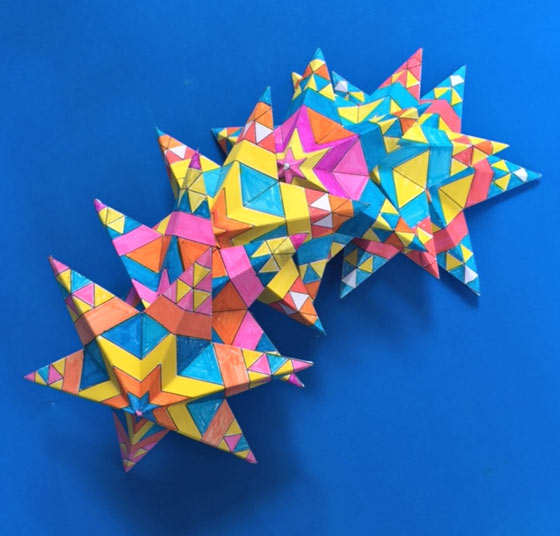 What you need to make Mexican paper star ornaments
• Crepe paper in at least 3 colors
• Ribbon or string
• Scissors
• Masking tape and glue stick
• Happythought paper star templates (or you can make your own templates)
Step-by-step Mexican paper star ornaments instructions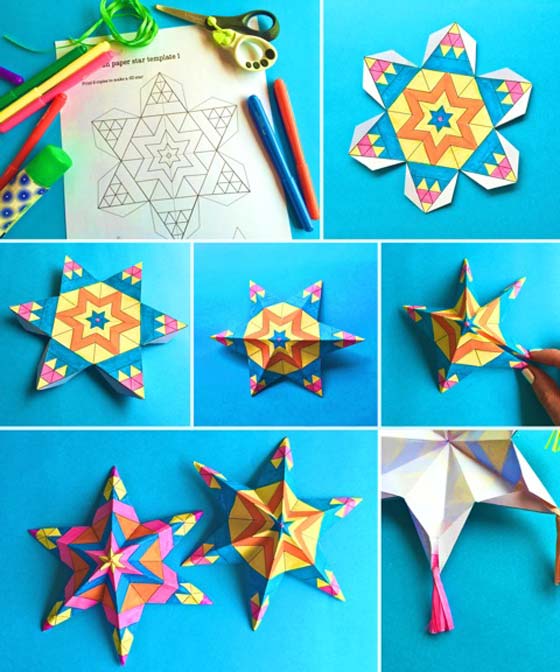 Step 1
Print out two star templates and carefully cut them out. Or make your own star template following the guide provided at the end of this chapter.
Step 2
Now score and fold both stars from the tip of each point to the tip of the opposite point, and also from trough to trough, as shown above.
Step 3
Re-fold into valley folds (trough to trough) and hill folds (point to point) so that each star looks like the one shown above.
Step 4
Next fold the tabs under as shown and flatten out each star.
Step 5
Now to make your tassels! Cut five strips of brightly colored crepe paper to approx. 8cm x 5cm. Next fringe the ends (approx. 3cm) as shown.
Step 6
Carefully roll up each strip of colored crepe paper and fan out the fringed end to make your tassel.
Step 7
Take one of your stars, and using a little sticky tape attach the tassels to the reverse five corners and a loop of ribbon to the sixth. Place a piece of scrunched-up crepe paper in the centre of your star to add some extra volume.
Step 8
Take the second star and apply a generous amount of glue to the folded tabs, using the glue guard provided on the template sheet to avoid getting glue on the star itself.
Step 9
Carefully line up and stick your two stars together.
Step 10
Your star ornament should now look like the picture above.
Step 11
To give your star volume, gently squeeze each point, and arrange the tassels, bending them so that they hang down. Your beautiful star is now ready!

Why not have a go yourself?
These Mexican paper stars are part of our Cinco de Mayo Craft Activity pack.

We also have a papel picado pinwheel, pinata and paper flower crown activities for activities and decorations.
---
We hope you enjoyed our make Mexican paper stars tutorial! If so, please give us a little love; by liking us on facebook, pinning us on pinterest or following us on twitter. Thank you!