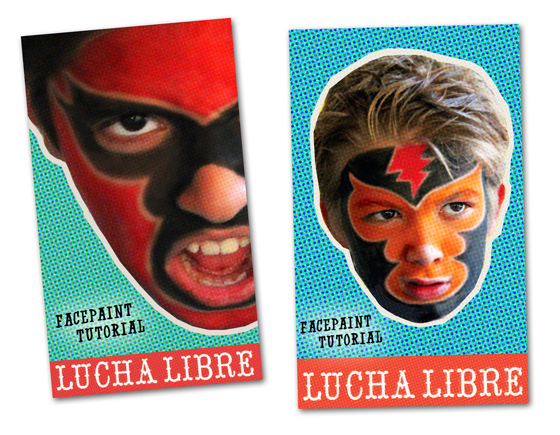 Lucha libre face paint tutorial: Easy to follow step-by-step photo and video tutorial!
Grrr! Our son Harvey and his mejor amigo Gabriel inspired us to come up with this Mexican Luchador face painting tutorial. It was easy and fun to do and kept them entertained for hours.
We are planning to use it as an activity at our Cinco de Mayo party this year, and some of the older children have already volunteered to be in charge of turning party goers into Mexican Luchadores.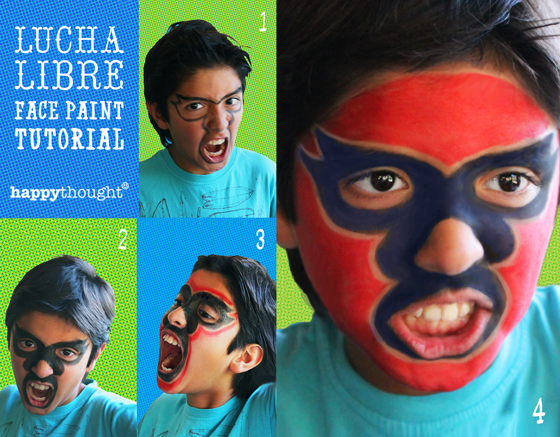 Mexican Luchadores or wrestlers are known for their colorful masks, rapid, acrobatic wrestling style and their high flying moves, and Lucha Libre masks have developed special significance.
They are used to mask the true identity of the luchadores, which is kept a secret. Check out the video face paint tutorial below to see how easy the costume is to prepare.
A step by step guide: Lucha libre face paint tutorial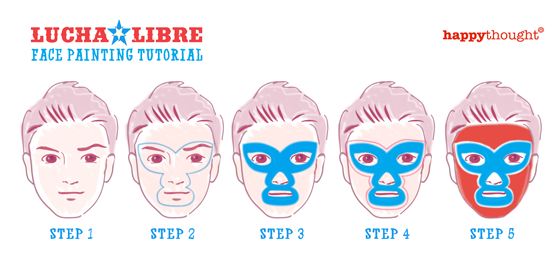 Step 1
To transform your subject into a Mexican luchador, start with a clean face and slicked back hair.
Step 2
Take a blue face paint and carefully draw an outline around the eyes, nose and mouth in the shape shown.
Step 3
Colour in the blue, leaving 'holes' for eyes, nose and mouth.
Step 4
Outline carefully in red.
Step 5
Fill in the rest of the face in red.
Ideally you will need some colorful face paints, but if you don't have any to hand it's easy to improvise by raiding a make-up bag – lip pencils, eyeliners and eyeshadows work well (you can mix these with a little vaseline and water, then apply with a paint brush or sponge).
You can also add a bit of glitter or a lightning flash to the forehead. Try out some of the designs included in the step-by-step sheets or make up your own!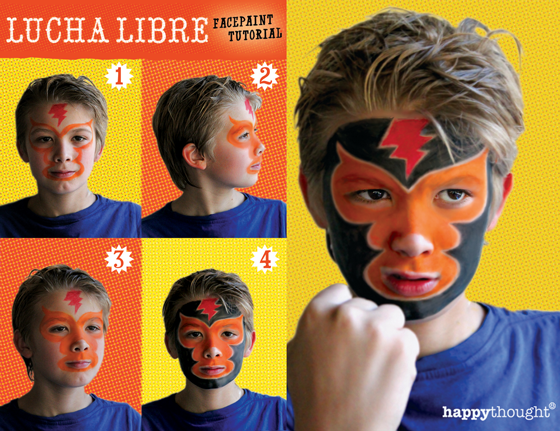 Download Lucha Libre face paint step-by-step PDF sheets!
We've put together these printable sheets with step-by-step instructions to refer to. If you are planning a Cinco de Mayo or Lucha Libre themed party why not print them out too (free to download below) so that guests can paint each other? They also make a great classroom, homeschool or rainy day activity.
Click here or the image below to download the free Lucha Libre face paint tutorial PDF.
Now to come up with a Luchador name!
Once you have painted your Lucha Libre mask you'll need a name to complete your Lucha Libre identity. Think of something strong and awe-inspiring, such as:
El Maestro
La Tormenta
El Toro
El Misterioso
El Rey
El Furioso
El Tigre Valiente
La Bruja Blanca
Legendary Luchador wrestlers include:
El Santo
Blue Demon
Rey Mysterio
Mil Mascaras
La Diabolica Mephisto
Lucha Libre Lingo:
El Luchador – the wrestler
El Cuadrilatero – the ring
El Referee – the referee
La Máscara – the mask
El Campéon – the champion
El Campéonato – the championship
El Capitán, el jefe – team captain
La Batalla – the battle
Parejas – tag teams
Trios – team of three
Atómicos – team of four
Lucha libre moves are very acrobatic with many high flying maneuvers. Some of the most common moves include:
Rana (the frog)
The luchador pins the opponent's shoulders down with his (or her) legs and holds the opponent's legs with his arms.
Plancha (the ironing board)
Once the opponent is down, the luchador dives onto his opponent from above, flattening him with his while body.
Tornillo (the screw)
Similar to the plancha move but with a twisting spin in the air.
Centon (the blanket)
A plancha but the diving luchador lands on his back.
Guillotina (the guillotine)
A leg drop.
You might like these lucha libre mascara deigns too – https://happythought.co.uk/product/printable-lucha-libre-masks
We hope you enjoyed how to face paint a lucha libre mask. If so, please give us a little love by liking us on facebook, pinning us on pinterest or following us on twitter.