Description
DIY Roman helmet template: Crafts for adults and children
Make this DIY Roman helmet, with Happythought's DIY helmet template. The PDF includes DIY Roman helmet template to color in plus a Roman soldier fact sheets.

Available to Happythought members to download. Perfect for Cosplay, DIY Halloween outfits, no sew costumes, creative and educational play.
DIY paper Roman helmet template. Download + make a 3D paper Roman helmet no sew by Happythought
YOU WILL RECEIVE:
PDF HIGH RESOLUTION (300 dpi) file contains the following templates/patterns:
1) DIY Roman helmet template and instructions
2) DIY Roman helmet black and white color in template
3) Roman soldier factsheet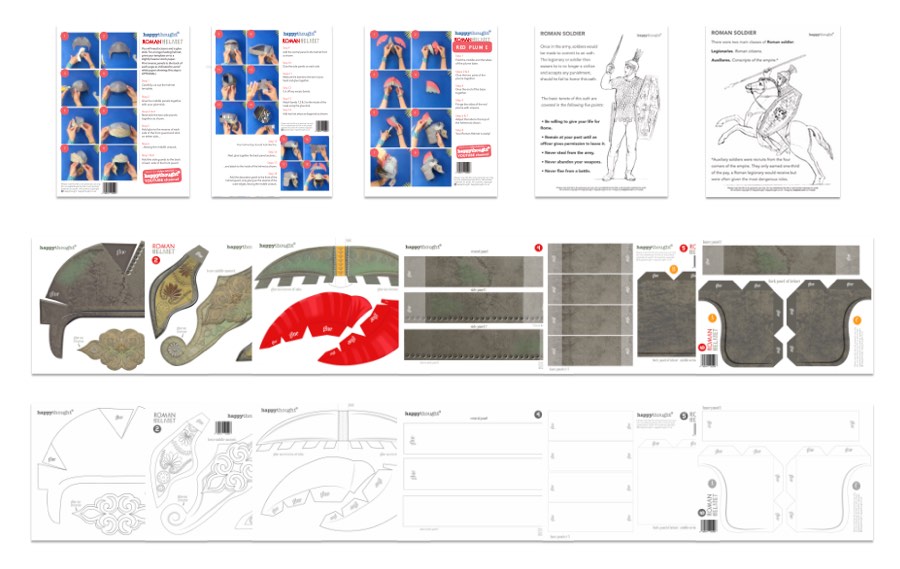 Includes instruction sheets with step-by-step photo instructions showing how to assemble your mask. Our digital templates are designed to be easy to make. We like things simple too!
A few facts about the roman soldier:
Once in the army, soldiers would be made to commit to an oath. The legionary or soldier then swears he is no longer a civilian and accepts any punishment, should he fail to honor this oath.
The basic tenets of this oath are covered in the following five points:
Be willing to give your life for Rome.
Remain at your post until an officer gives permission to leave it.
Never steal from the army.
Never abandon your weapons.
Never flee from a battle.
If you want to did deeper into the life of a Roman soldier read more with Marilee Hanson's excellent article. "Roman Soldiers – History And Facts"
Check out more printable craft ideas from Happythought:
Want more mask costume ideas?
Popular Happythought Printable Animal Masks set plus B&W masks to color in, plus animal activity fact sheets. Easy Printable Halloween mask/costume ideas, super hero masks and a set of calavera masks for Day of the Dead celebrations.
We hope you enjoy our Roman helmet template and Roman soldier factsheets. If so, please give us a little love; by liking us on facebook, pinning us on pinterest or following us on twitter. Thank you!SaveSaveSaveSaveSaveSave