How to make an Ofrenda (offerings)
An ofrenda is an altar to remember and honour loved ones who have passed.
Traditionally ofrendas are colourful and decorative, laden with gifts to please returning spirit guests and adorned with orange marigolds, sugar skulls, candles and papel picado banners. Offerings of food are also left on the altar. Some traditional offerings include fruit, hot chocolate, pan de muerto and a glass of water for the weary traveller.
Special items belonging to the deceased such as a hat or a guitar can also be displayed. Often a bottle of liqueur is laid out for loved ones who enjoyed a tipple.
Your ofrenda can be a general celebration of ancestors past, or if you prefer you can place photos of loved ones on it and invite guests to do the same. Take a look at our post on 'What is Day of the Dead?' for more information.
How to make an Ofrenda: A step-by-step guide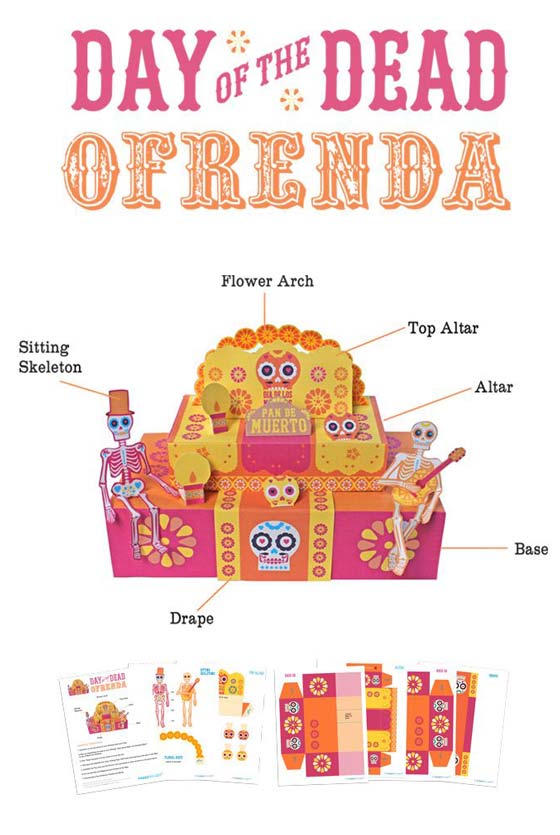 We have put together a short photo tutorial (on you tube How to make an Ofrenda too) to show you how to make your own colourful Ofrenda. The photos come with clear and concise instructions showing how to prepare and assemble a mini ofrenda using Happythought's Day of the Dead printable party kit.

You will need a ruler, scissors, a craft knife (optional), a glue stick and a butter knife (also optional!).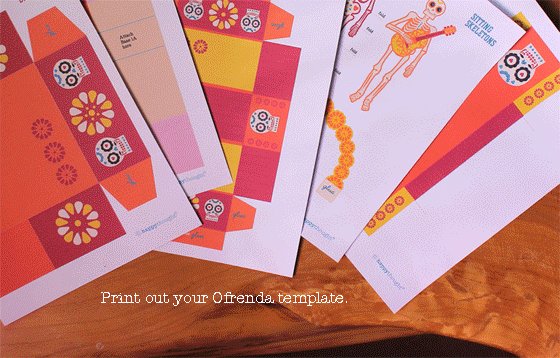 First score your sheets by running the back of the butter knife along the folds.
Next cut out all the elements of your Ofrenda. Use a craft knife for straight lines and scissors for curves.
Take Base 1A and Base 1B. Apply glue to light area on 1A and join together.
4 Apply glue to the corner joins and assemble.
Now take the 'Drape' apply glue on the reverse and attach to the Base.
Next take the Altar.
Apply glue to corner tabs and assemble.
Apply glue to tabs A & B and attach to the Base.
Take the Flower Arch apply glue and attach to the Top Altar.
Apply glue to side panels and assemble the Top Altar.
Glue and attach the Top Altar.
Fold each skeleton into a sitting position and place them on your Ofrenda.
Prepare the Skulls, Candles and Pan de Muerto and pop them on the Ofrenda!

More Happythought crafts and templates to explore:
We also have our very popular printable Mexican food signs to download: https://happythought.co.uk/day-of-the-dead/mexican-food-signs