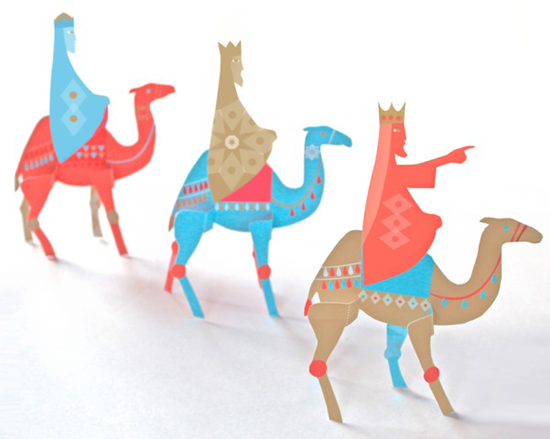 Folksy Three Kings Christmas Paper Craft
Back in August, when the friendly folk at Folksy asked us to submit a design for their Exclusive Christmas Collection, we were honoured, excited and a little nervous!
We put our thinking caps on, and although the sun was shining outside, with a little help from some Christmas carols and a glass of mulled wine (no minced pies to be found anywhere) we got into the premature festive spirit.

The result was the Three Kings Limited Edition Papercraft design and we are proud to say it is our first printed product on Folksy, lovingly printed onto both sides of 320gsm matt card. The design includes a mini star garland and is delivered in a festive red envelope, sealed with a Happythought sticker.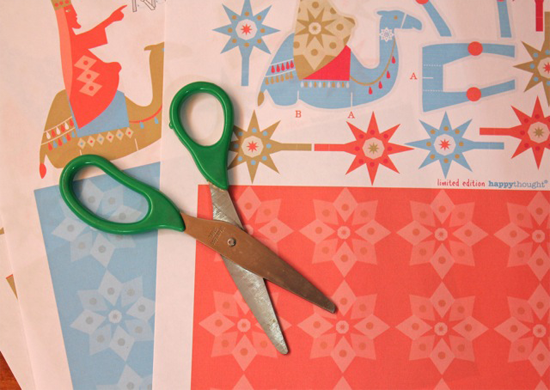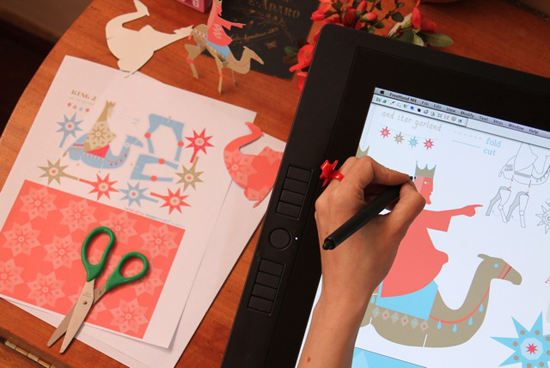 The Three kings design process
Inspiration struck when thinking about all things Christmassy. We Three Kings sprung to mind and soon they were on camelback.
A few rough maquettes later and we decided that the idea was a goer. The designs were then translated onto the computer and using the beloved Wacom Cintiq screen tablet and pen Ellen added the colours – red, blues and a 'gold' – and pattern.
We printed out the templates, put together a final maquette and got approval from the Happythought top dogs – our children Harvey (9) and Missy (6).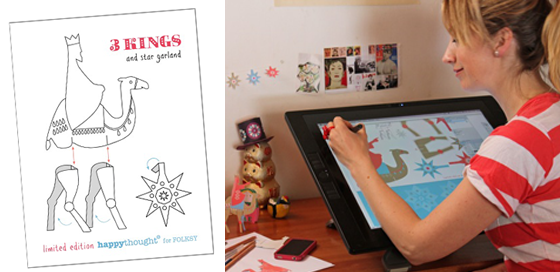 It is very important to us that our paper crafts 'work' and that they are easy to make, with the minimum of fuss and the maximum of fun!
We try to ensure that they can be made using common-or-garden scissors and a glue stick, and that the paper crafts are not too fiddly. Our rule of thumb is that if we 'can't be bothered' to make them then no-one else will be either!
Try these other festive crafts and activity worksheets

Read about more craft ideas on our blog. We hope you enjoyed this printable Paper craft 3 kings project! If so, please give us a little love; by liking us on facebook, pinning us on pinterest or following us on twitter. Thank you!