We've had a lot of fun putting together these fun DIY craft projects for you in our popular craft book Sloth Crafts, and we hope you enjoy using this book as much as we enjoyed creating it.
Packed full of 18 fun craft projects, all about the sloth – one of the coolest, cutest animals around!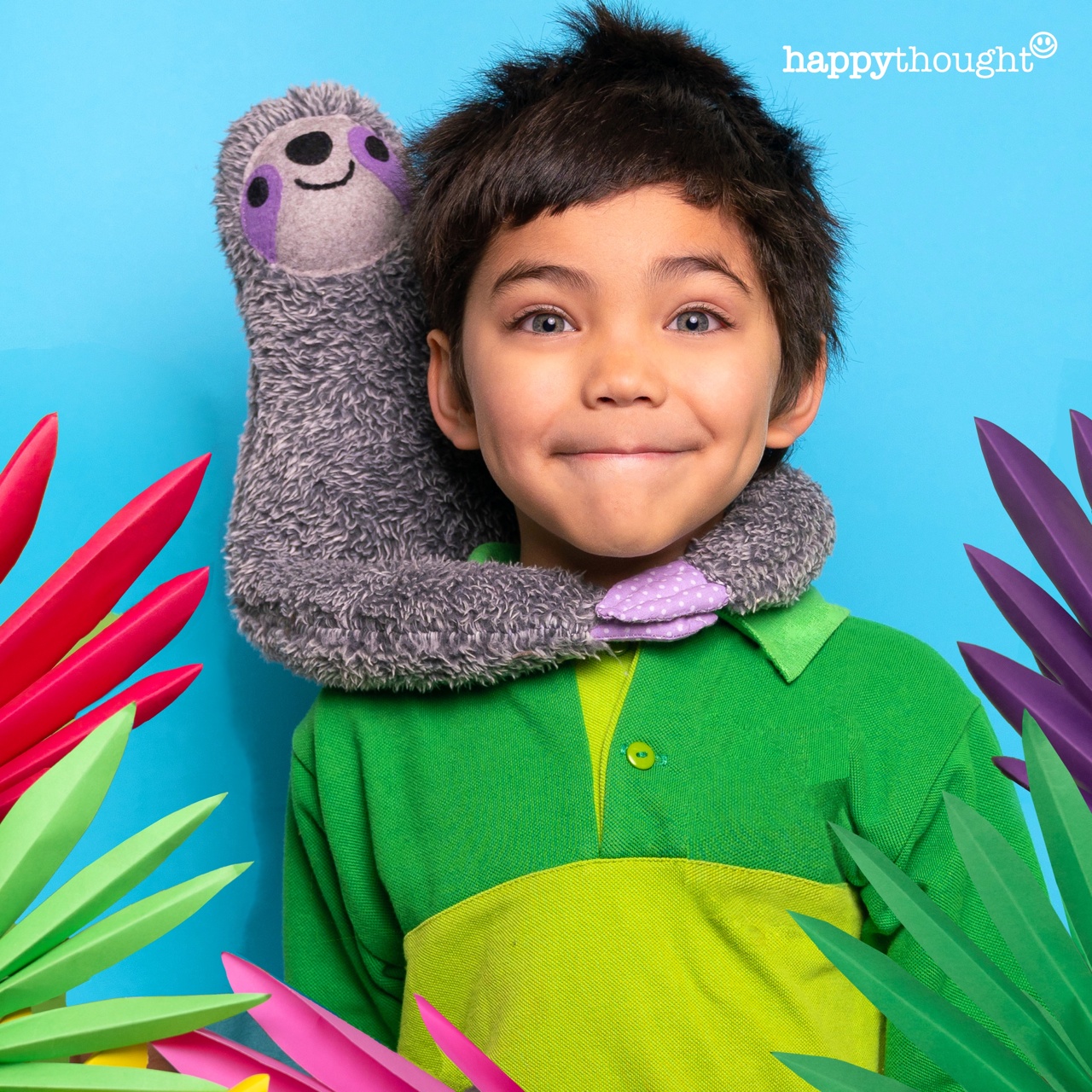 Don't be surprised if you fall for these loveable animals in a big way!
There's so much to be inspired by in Sloths. They seem to enjoy the good things in life, hanging out, watching the world go by, and always with a smile on their faces!
At the back of the book you will also find sloth templates to cut out color in or copy.
We are really excited to announce that our brand new book, Sloth Crafts by Ellen Deakin of Happythought, is here!
Where can I buy the Sloth Crafts book?
These crafts and ideas are from our popular book Sloth Crafts book, available at Amazon, Barnes and Noble, Target, Waterstones and all good book shops now. We also have in the series of Happythought Craft books, a Llama crafts book and Corgi crafts book
So let's get crafting! Take it easy and get in touch with your inner sloth. Don't hurry, be happy!
SLOTH STRING ART
Make your own stunning piece of wall art, using a piece of wood board, nails and embroidery thread or string!
String-art is a fun, easy way to make a colorful picture by wrapping thread around nails. Mix up the colors and have fun creating unique piece of artwork. Give little ones an hand by putting nails in place, then they can wrap around the colorful thread. Use the template in Sloth Crafts to create an adorable Sloth and butterfly image.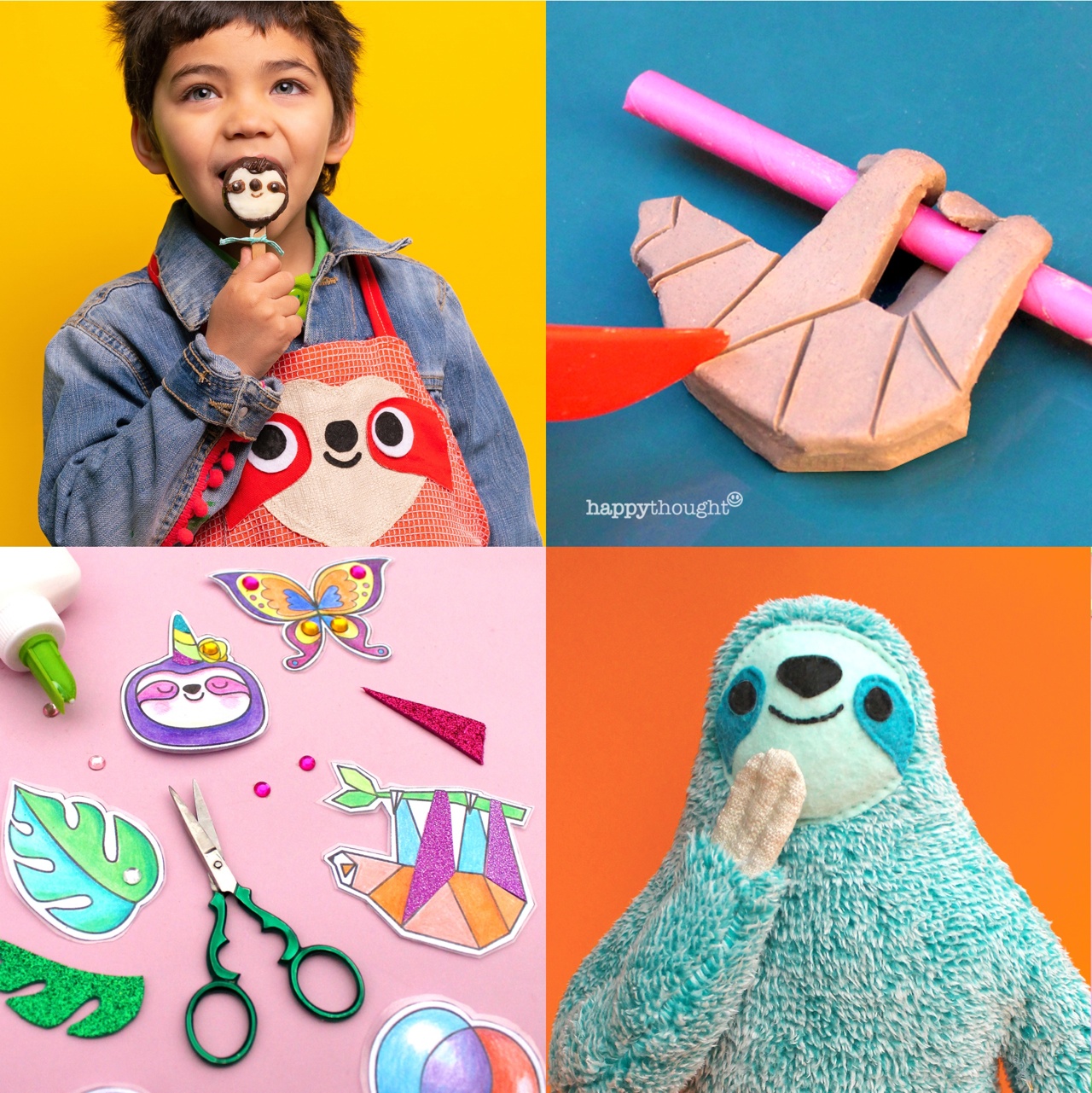 SLOTH CRAFT PLUSH
Make your own adorable Sloth plush family! These cute and cuddly sloth plushes are easy to make and full of charm. Follow the pattern in Sloth Crafts and add velcro strips to their claws so that they are huggable. Perfect cuddle companions!
SLOTH MASK
Be a sloth in no time with our fun printable sloth mask template. The worksheets feature a sloth mask to color in, a sloth fact sheet and coloring in pages. Available to Happythought members to download.
SLOTH PLANTER
Make an adorable hanging sloth planter using air or oven dry clay. Mould a ball of clay into a hanging sloth, then pack with earth and mini succulents for a unique hanging planter!
Paint on a happy face and tie on a tassel or bauble to add the finishing touch.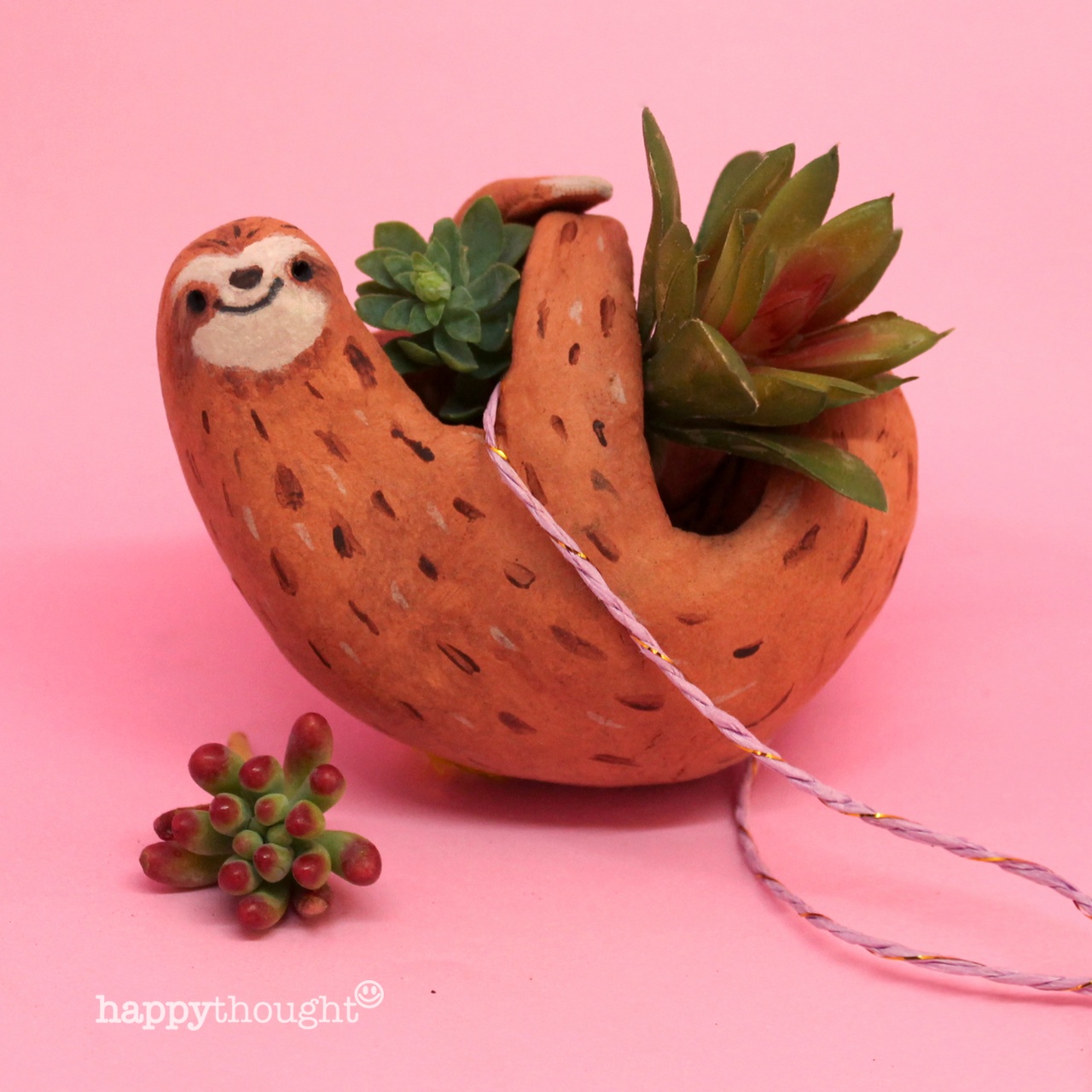 SLOTH NECKLACE
Make your own super sloth necklace, using polymer clay and tassels! Using the template in the back of the book Sloth Crafts to make an adorable origami style sloth to hang off a chain or ribbon.
Make and bake your sloth charm then paint it your way. We chose metallic paints but you could also use bright and vibrant colors! Add some colorful tassels and you are ready to go!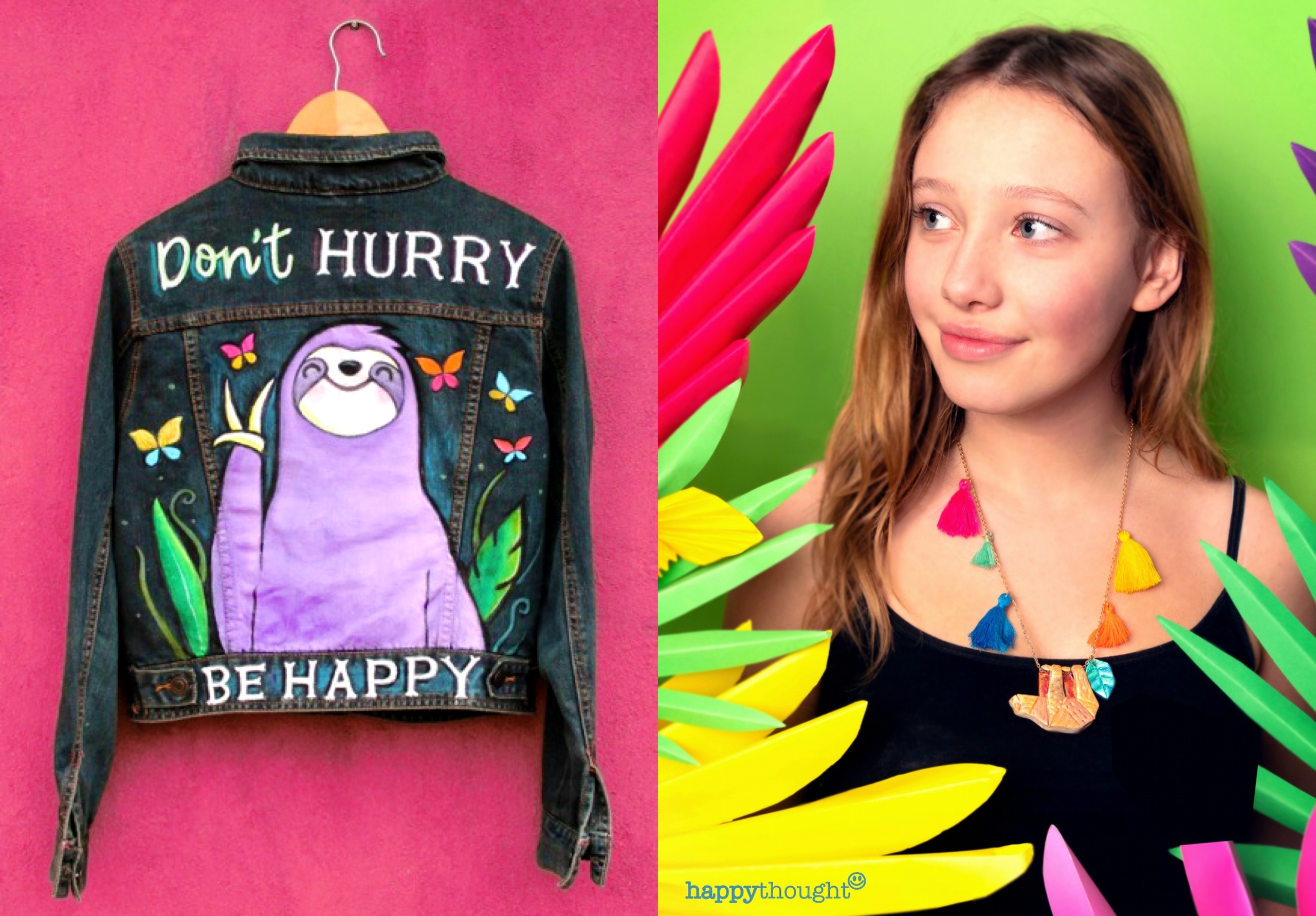 SLOTH JACKET
Decorate your own jacket and make a fun fashion statement! All you will need is a denim jacket, paint and some imagination to give an old jacket a new lease of life. Use the template idea featured in Sloth Crafts, or create your own design. We added a fun, Sloth-approved message: Don't Hurry, be Happy!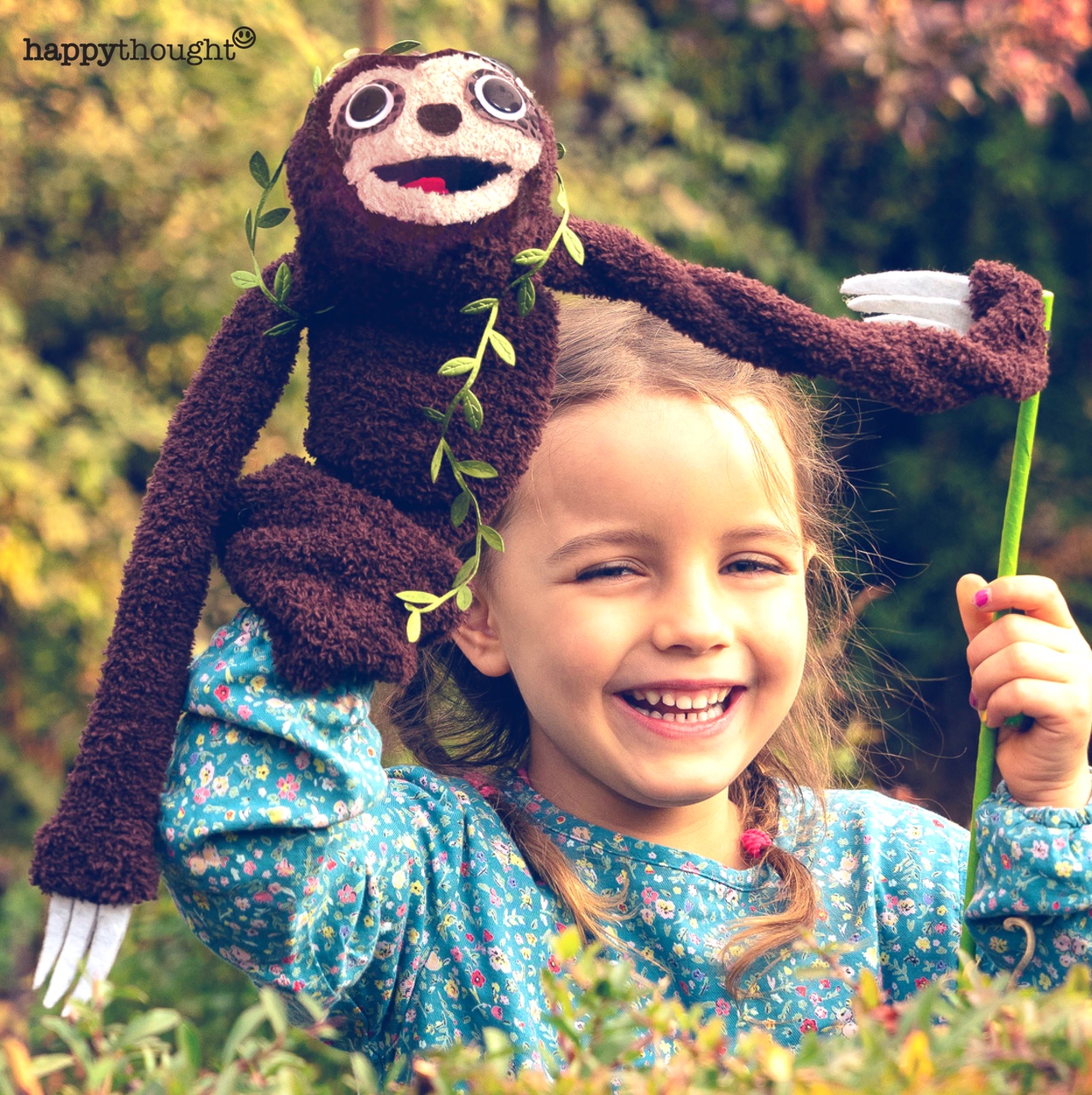 SLOTH CRAFT SOCK PUPPETS
Make a fun and friendly Sloth Sock Puppet! All you need is a couple of pairs of socks, some felt and some card and you'll be ready to open your own Sloth puppet theatre. These puppets are fun to make and easy to operate. Have fun bringing your sloth to life with slow, relaxed movements and a laid back voice. We attached a stick to one arm so you can move it independently and also some tiny leaves.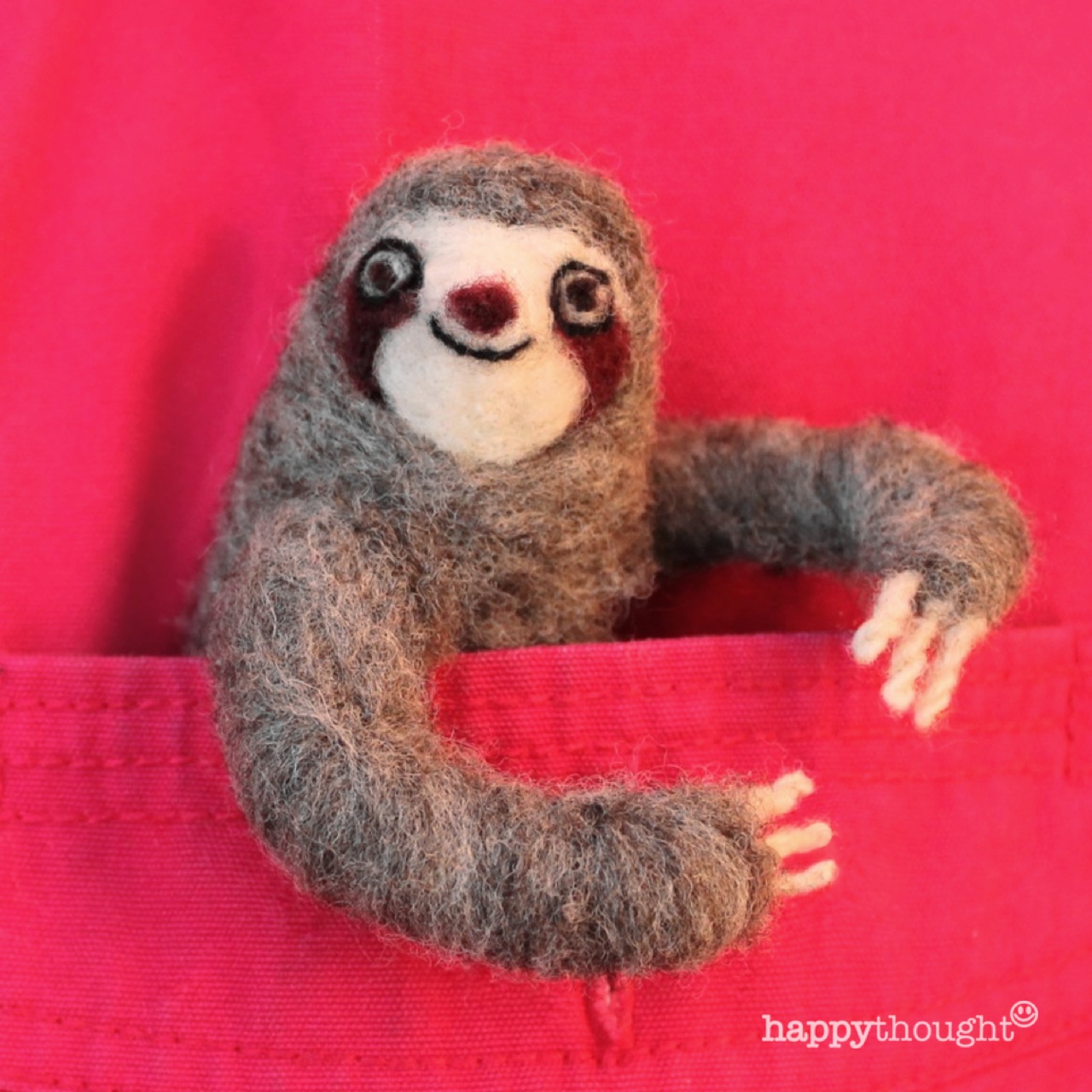 NEEDLE FELTED SLOTHS
These adorable sloths are created by sculpting shapes from unspun wool, using special needles to lock the fibers of wool together. Once you get the hang of the technique you can create wonderful sloths in no time at all.
SLOTH PINBOARD
Is the sloth your spirit animal? You can make your own DIY Sloth shaped bulletin board or pin board using cardboard, fabric and ribbon. This is a no-sew project and you probably have most of the materials to hand already in your home!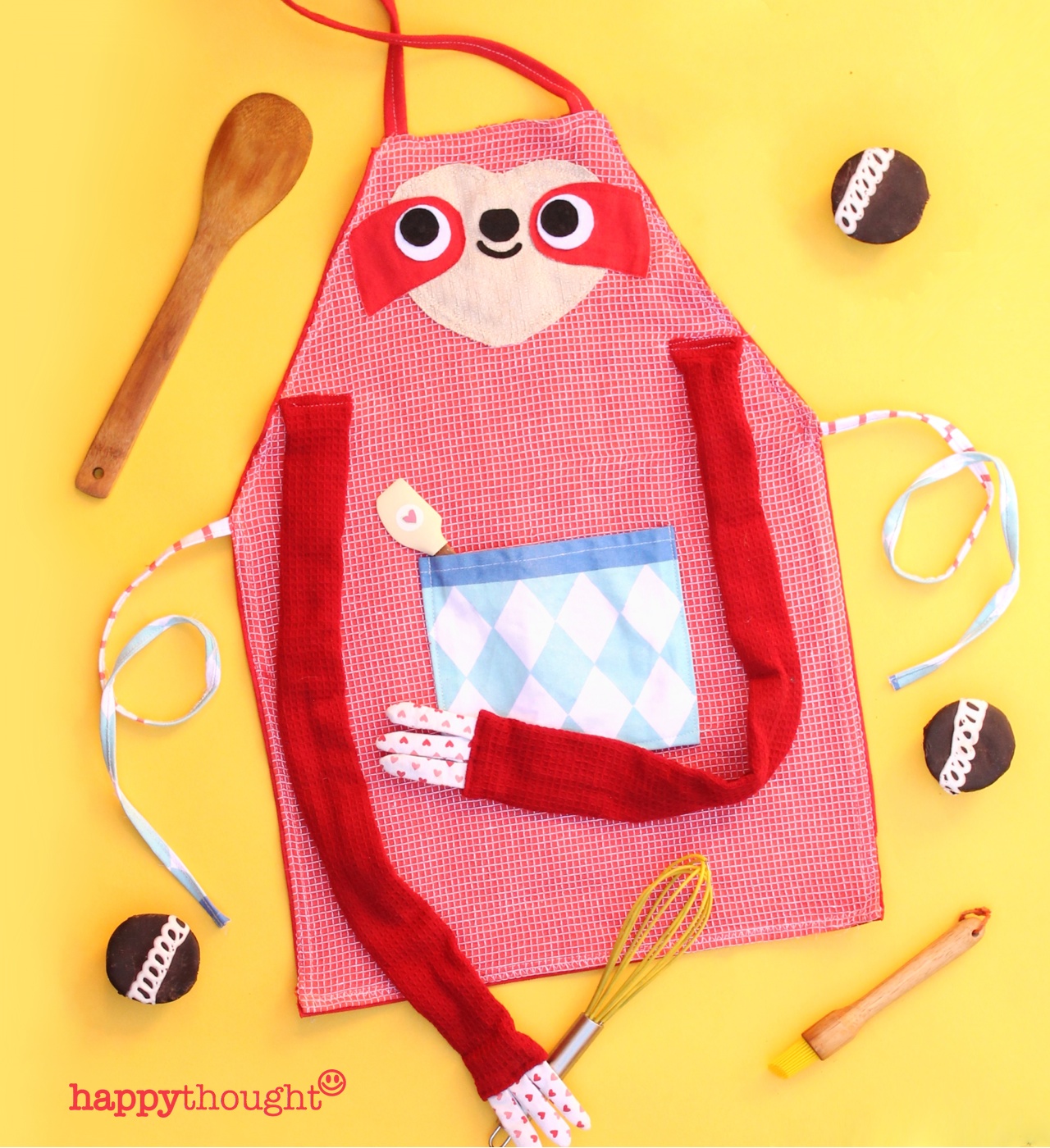 SLOTH CRAFT APRON
Make a DIY Sloth apron for the kitchen or art room, using tea towels! This cute apron is fun to make and so useful! Choose some colorful tea towels and get crafting! Add long arms for a comical look. Baking has never been so fun! Follow the tutorial and templates featured in Sloth Crafts.
SLOTH COOKIE POPS
What better homemade treat than some yummy Sloth Cookie pops? Easy to make and almost too cute to eat!You can rustle up a plate of sloth pops in no time, using store bought cookies as the base.
Have fun piping on the faces, using chocolate chips and sprinkles for the features. each sloth cookie pop has it's own personality! Perfect for a sloth themed party.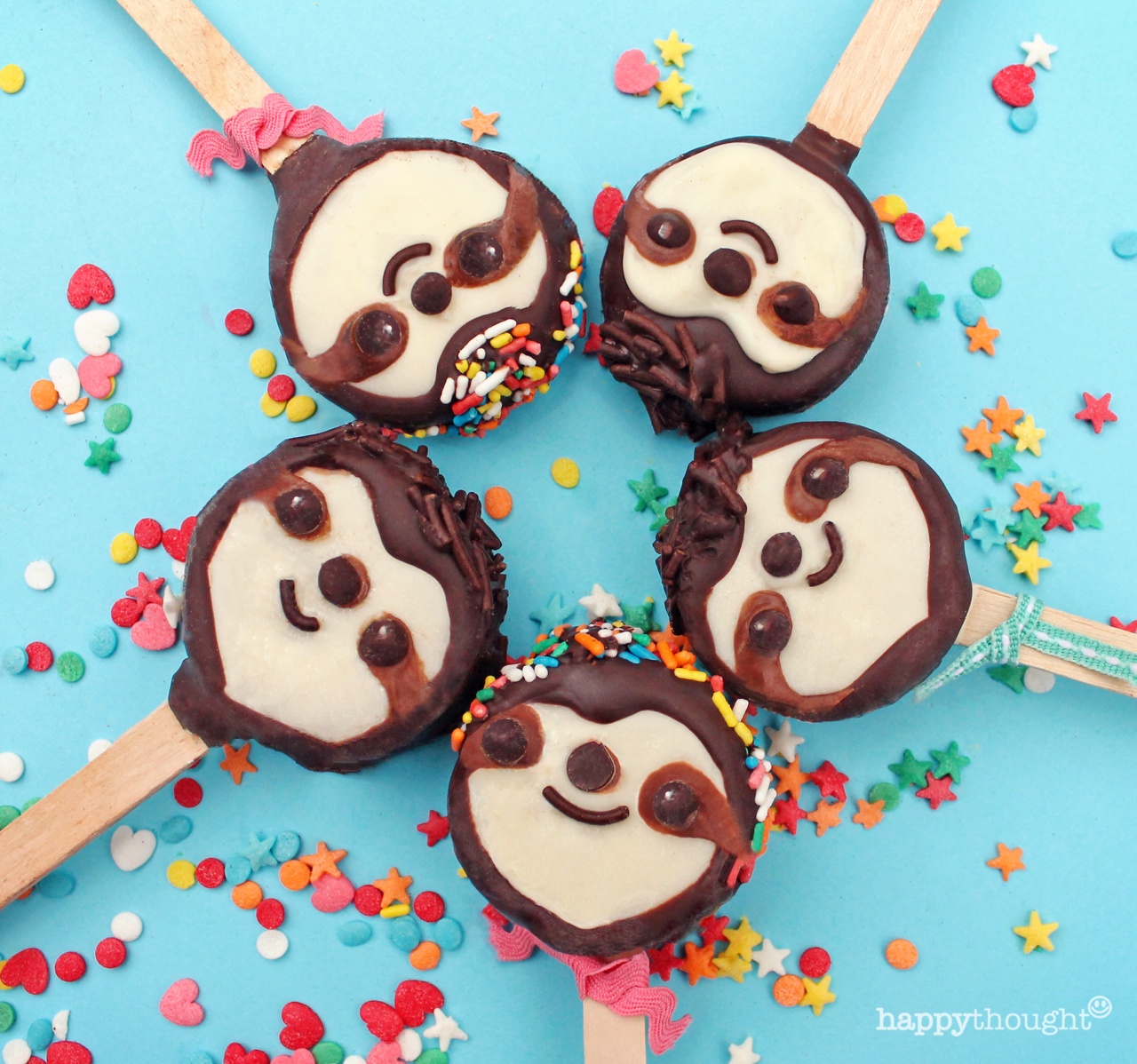 For more Sloth action check out our Happythought Sloth craft board on Pinterest.
SO WHAT IS A SLOTH?
A sloth is a mammal that lives in trees, often hanging upside down. It sleeps 15 to 20 hours a day. A sloth has poor eyesight. It moves slowly, to conserve energy and to avoid detection by predators.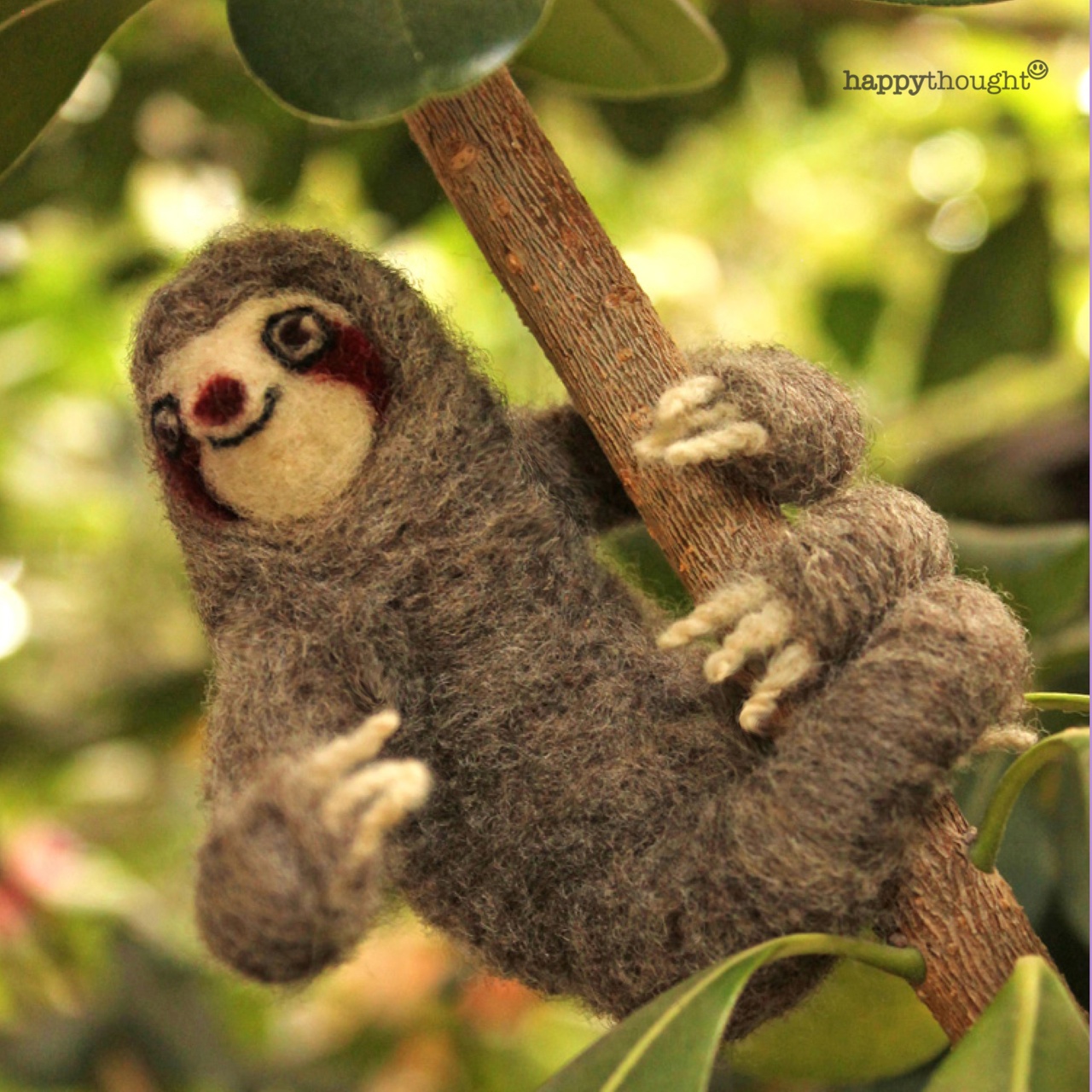 Where does the sloth live?

Sloths live in trees in the tropical rain forests of South and Central America. They usually eat their diet of leaves, sleep, and even give birth hanging from branches. Their long arms and legs have curved claws to help them to hang upside down. Their slow movement on land helps them avoid attack by hawks and cats who hunt by movement more than smell.
Do people keep sloths as pets?
Some people do but it is not a good idea. Sloths make poor pets as they need to eat only the leaves of particular trees that are not found everywhere. Their digestion is so slow that they only poo once a week, dropping lumps from trees as they hang. Their slow movements help to conceal them from predators.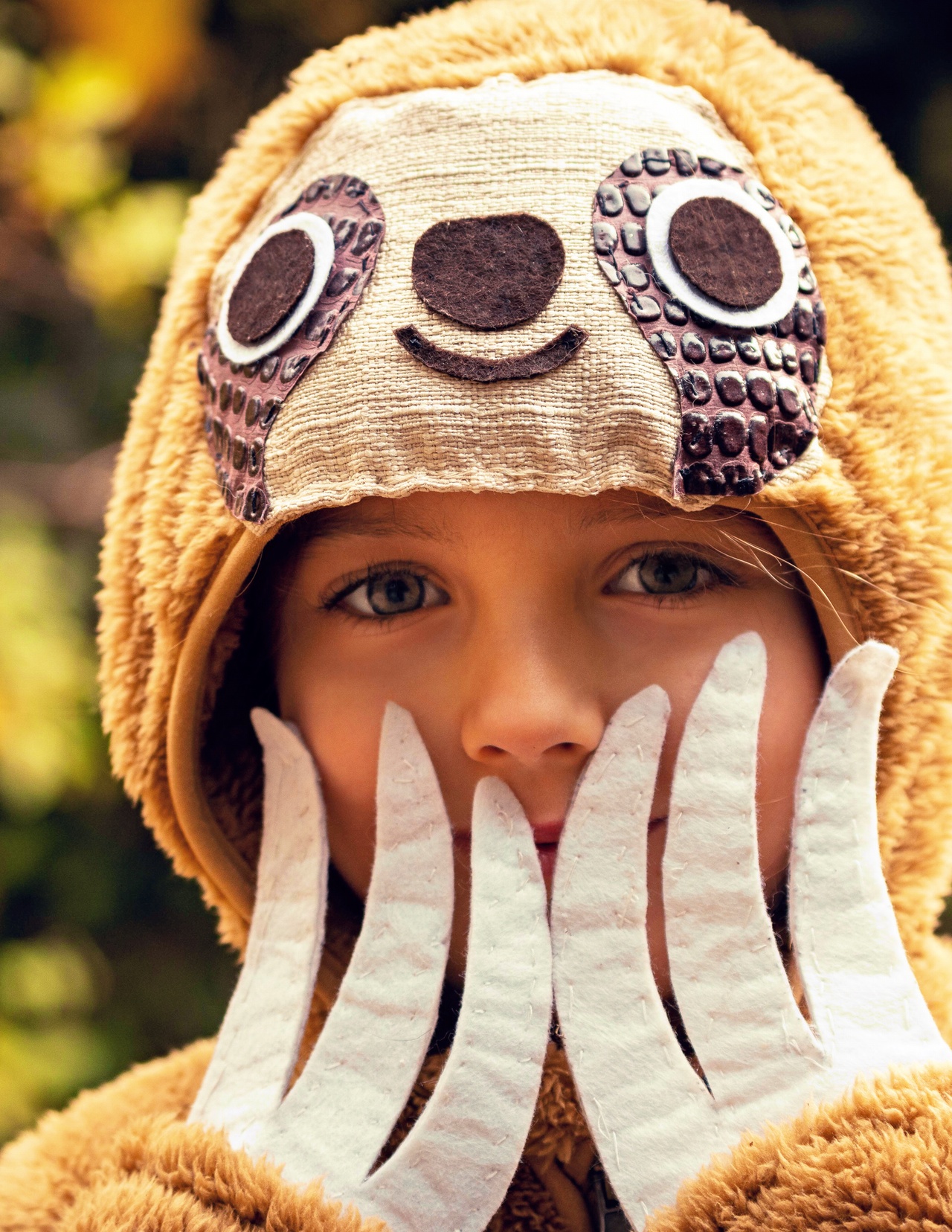 Why do we love sloths?
Could it be their friendly faces with mouths that seem to have a permanent smile? Or their relaxed laid-back manner and chilled attitude? They can twist their heads 270 degrees, which looks cute and helps them to see danger approaching.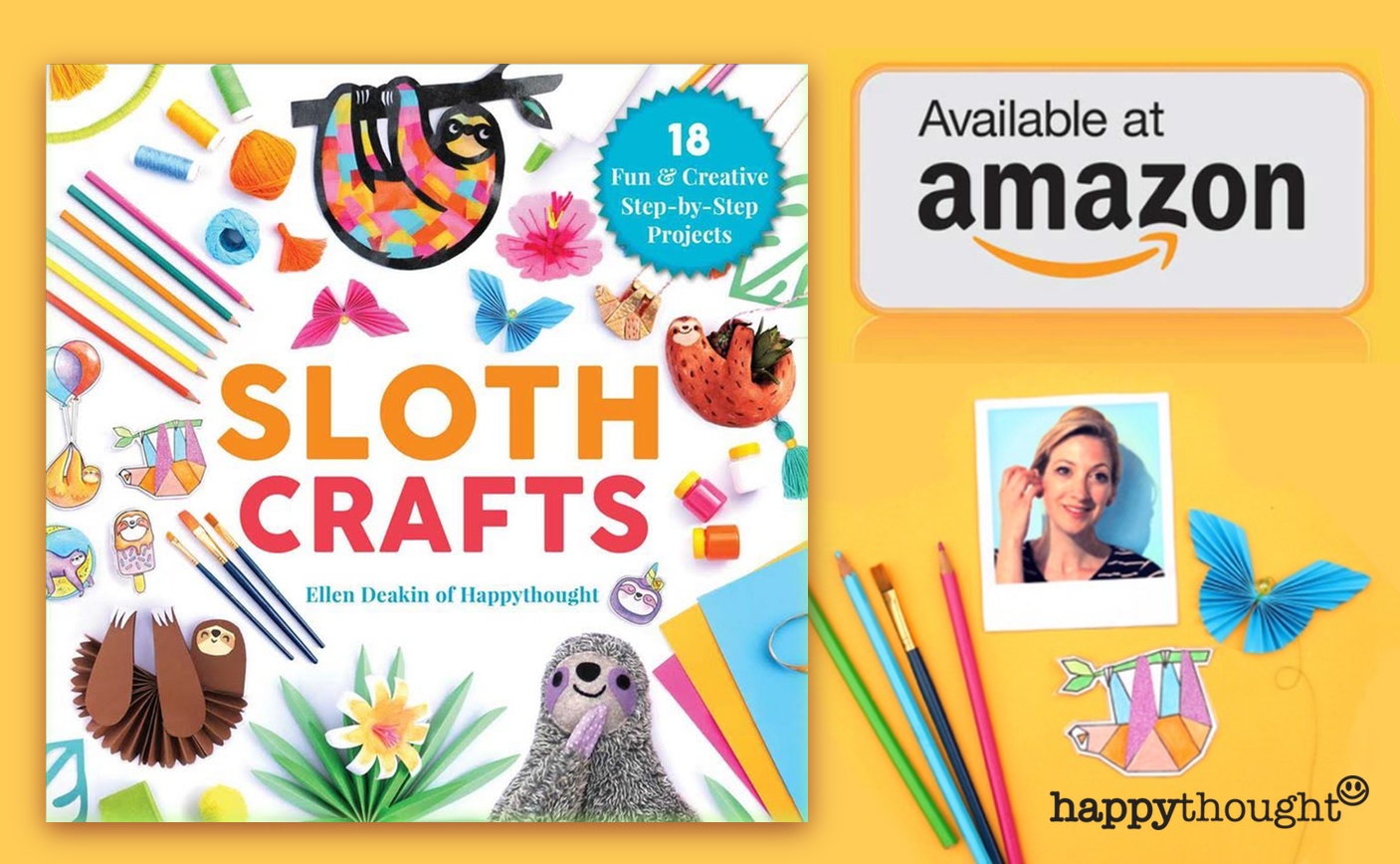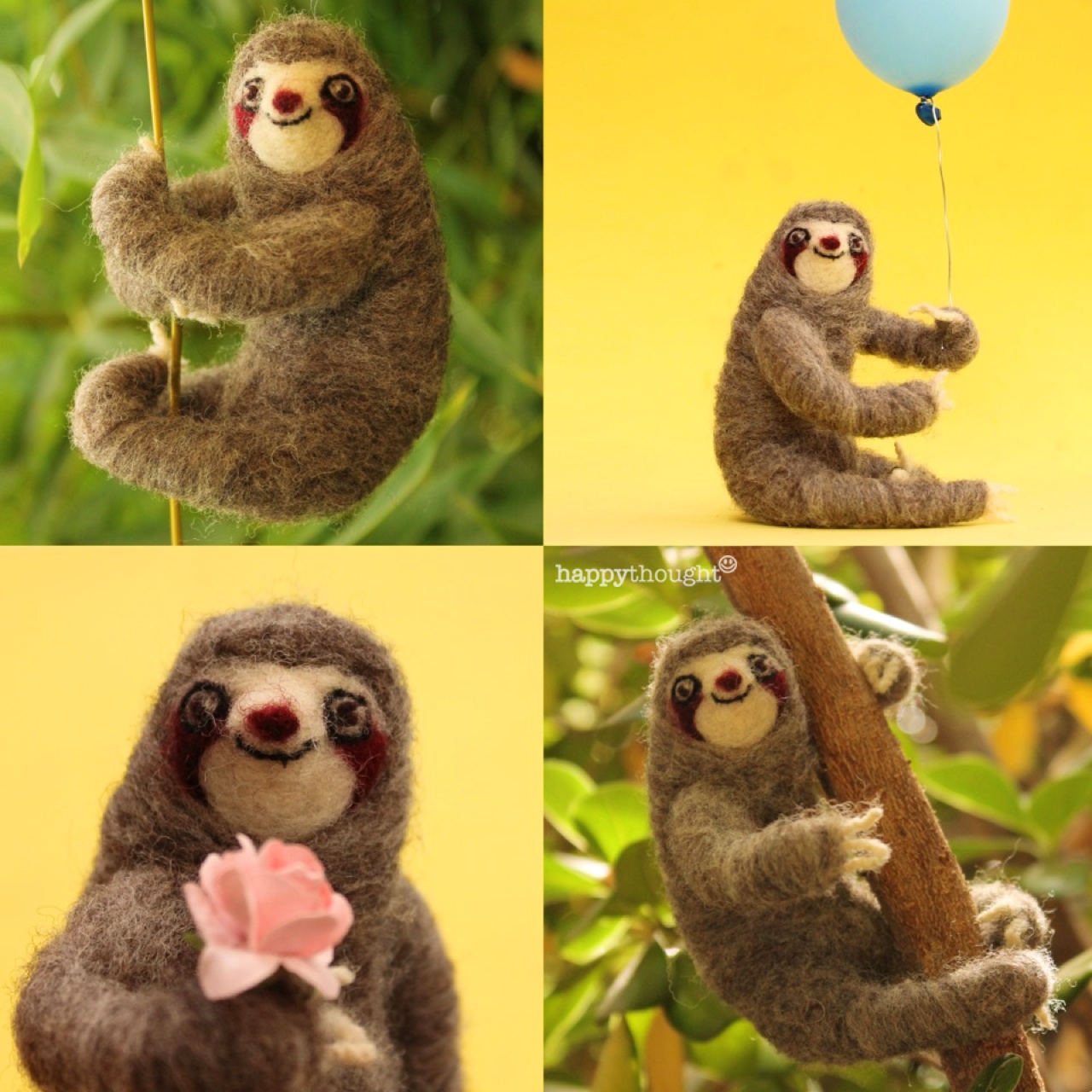 Sloth Crafts by Ellen Deakin of Happythought is published by Racehorse. Also available is Llama Crafts by Ellen Deakin