Description
Happythought's fun totally Roar-some Tiger coloring activity PDF pack is crammed full of tiger images to color in, activities, puzzles and tiger facts.
If you or your child like coloring in and love tigers too, then download the Tiger colour in pages now and make everyone happy!
Perfect for the the tiger loving craft fan in your life
Coloring in is a great mindful activity. Coloring in can help improve your child's grip, as well as helping them to relax, self regulate their mood, and develop their imagination.
The pack also features a tiger mask, tiger snowflake patterns, plus puzzles and games.
These printable templates are ideal for:
Beautiful Tigers Coloring Pages for Your Little Artist
Suitable for children and adults
Incredibly Fun and Relaxing
Quiet time for drawing practice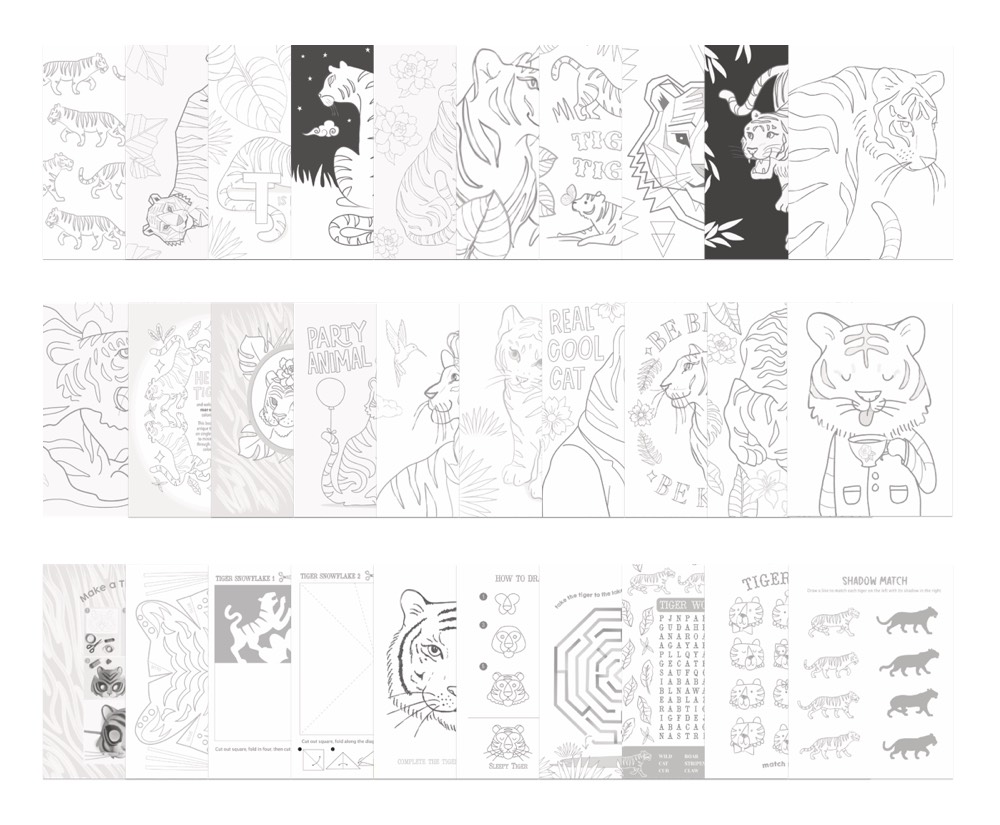 22 Tiger PDF coloring in pages:
Intro page
Tiger cub wearing a flower
Hello Tiger
Tiger wearing a crown
Tiger cub
Real cool cat
Be brave, be kind
Wild thing
Prowling Tiger in forest
Tiger at the lily pond
Tiger drinking Tea
Tigers coming and going
Party animal
T is for Tiger
Sitting Tiger at night
Young, wild and free
Tigers in love
Tiger, Tiger
Geometric Tiger head
Roar-some Tiger
Prowling Tiger in bamboo
Tiger portrait
10 Tiger PDF activity pages:
Tiger mask instructions
Tiger mask cut and color template
Leaping Tiger snowflake template
Tiger head snowflake template
Complete the Tiger and colour it in
Draw a happy and a sleepy Tiger face
Tiger word search
Guide the Tiger to the lake
Tiger snap game
Tiger shadow match game
18 Tiger PDF fact pages:
The tiger is the biggest species of the cat family.
Tigers usually hunt alone at dawn or dusk, and sometimes in the dark.
Tigers are good swimmers and can swim up to six kilometres.
Discover more facts in these downloadable PDF worksheets, or our ebook on kindle or Happythought's paperback version.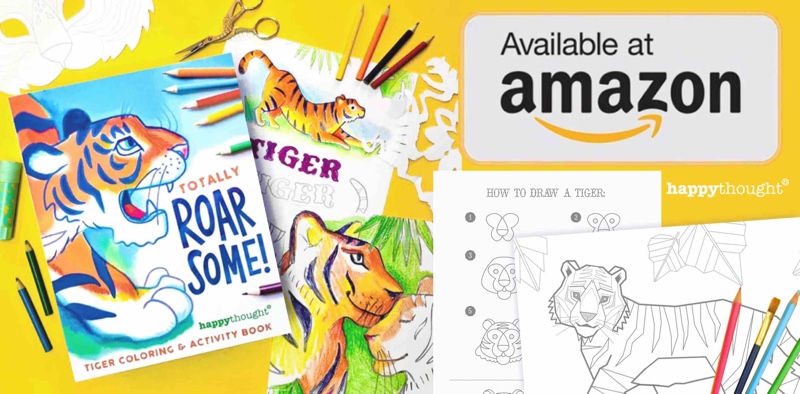 If you can't print out these Tigers coloring in and pages you could purchase the paperback version 'Totally Roarsome Tiger coloring & activity book' by Happythought, available from Amazon.