Description
DIY Valkyrie helmet template: Crafts for adults and children
Make this DIY Valkyrie helmet, with Happythought's DIY helmet template. The PDF includes DIY Valkyrie helmet template to color in plus a Valkyrie fact sheet.

Available to Happythought members to download. Perfect for Cosplay, DIY Halloween costumes, creative and educational play.
DIY paper Valkyrie helmet template. Download + make a 3D paper Valkyrie helmet no sew by Happythought
YOU WILL RECEIVE:
PDF HIGH RESOLUTION (300 dpi) file contains the following templates/patterns:
1) DIY Valkyrie helmet template and instructions
2) DIY Valkyrie helmet black and white color in template
3) Valkyrie factsheet
Includes instruction sheets with step-by-step photo instructions showing how to assemble your mask. Our digital templates are designed to be easy to make. We like things simple too!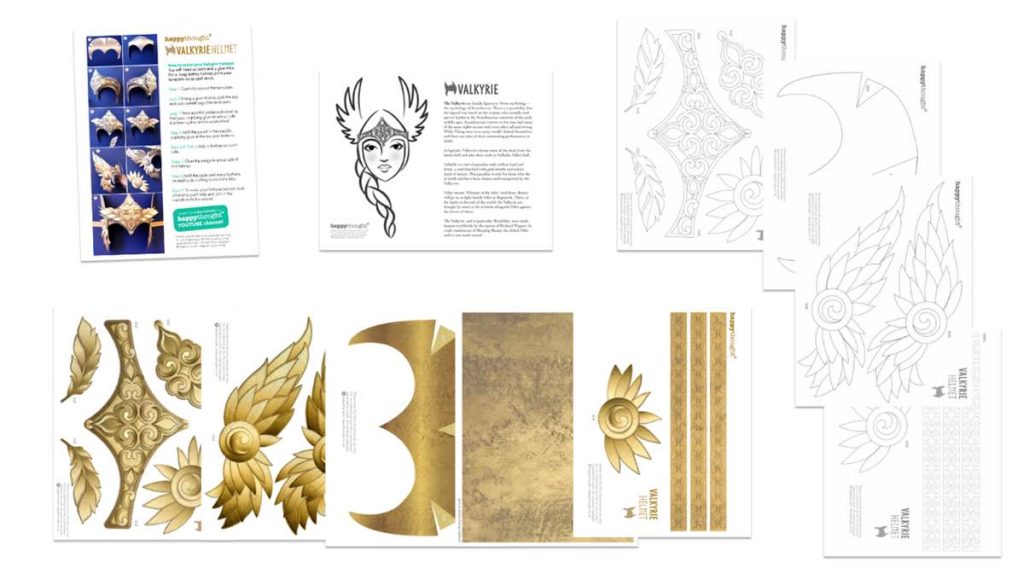 Learn a little bit more about Valkyrie:
The Valkyrie are female figures in Norse mythology – the mythology of Scandinavia. There is a possibility that the legend was based on the women who actually took part in battles in the Scandinavian countries of the early middle ages. Scandinavian women at this time had many of the same rights as men and were often tall and strong. While Viking men were away would defend themselves and there are tales of their outstanding performance in battle.
In legends, Valkyries choose some of the dead from the battle field and take their souls to Valhalla, Odin's hall.
Valhalla is a sort of paradise with endless food and drink, a roof thatched with gold shields and rafters made of spears. This paradise is only for those who die in battle and have been chosen and transported by the Valkyries.
Valkyr means "Chooser of the slain" and those chosen will go on to fight beside Odin at Ragnarok. There, at the battle at the end of the world, the Valkyrie are thought by some to die in battle alongside Odin against the forces of chaos.
The Valkyrie, and in particular Brunhilde, were made famous worldwide by the operas of Richard Wagner. In a tale reminiscent of Sleeping Beauty she defied Odin and so was made mortal.
Check out more printable craft ideas from Happythought:
Want more mask costume ideas?
Popular Happythought Printable Animal Masks set plus B&W masks to color in, plus animal activity fact sheets. Easy Printable Halloween mask/costume ideas, super hero masks and a set of calavera masks for Day of the Dead celebrations.
We hope you enjoy our Valkyrie helmet template and factsheet. If so, please give us a little love; by liking us on facebook, pinning us on pinterest or following us on twitter. Thank you!SaveSaveSaveSaveSaveSave