We are so excited to share our new Llama Crafts project book with you, packed full of inspiring crafts and templates!
We've had a lot of fun putting together these lovely llama craft projects for you in our fun new craft book Llama Crafts, so we hope you enjoy using this book as much as we enjoyed creating it.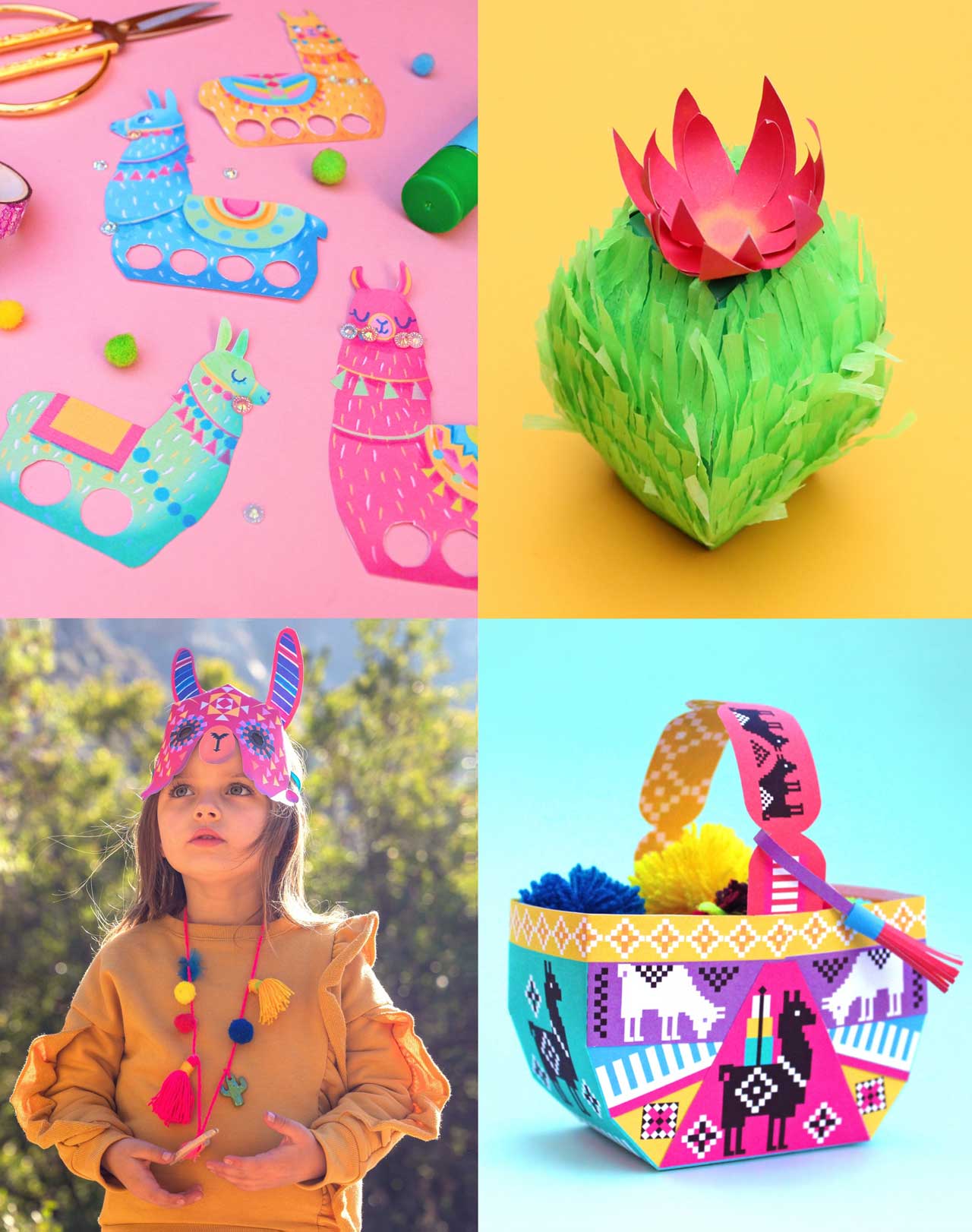 Yes, we love llamas, and I'm guessing you too love llamas as much as we do! If so, you're in luck! There are all sorts of llamas in this brand new craft book – cute llamas, elegant llamas, smiling llamas, funny llamas and cuddly llamas – llamas are just so full of personality!
No drama llama, these llama crafts are going to whisk you away to your happy place. Fun and quirky, these popular fluffy animals are one of the latest spirit animal trends that everybody loves!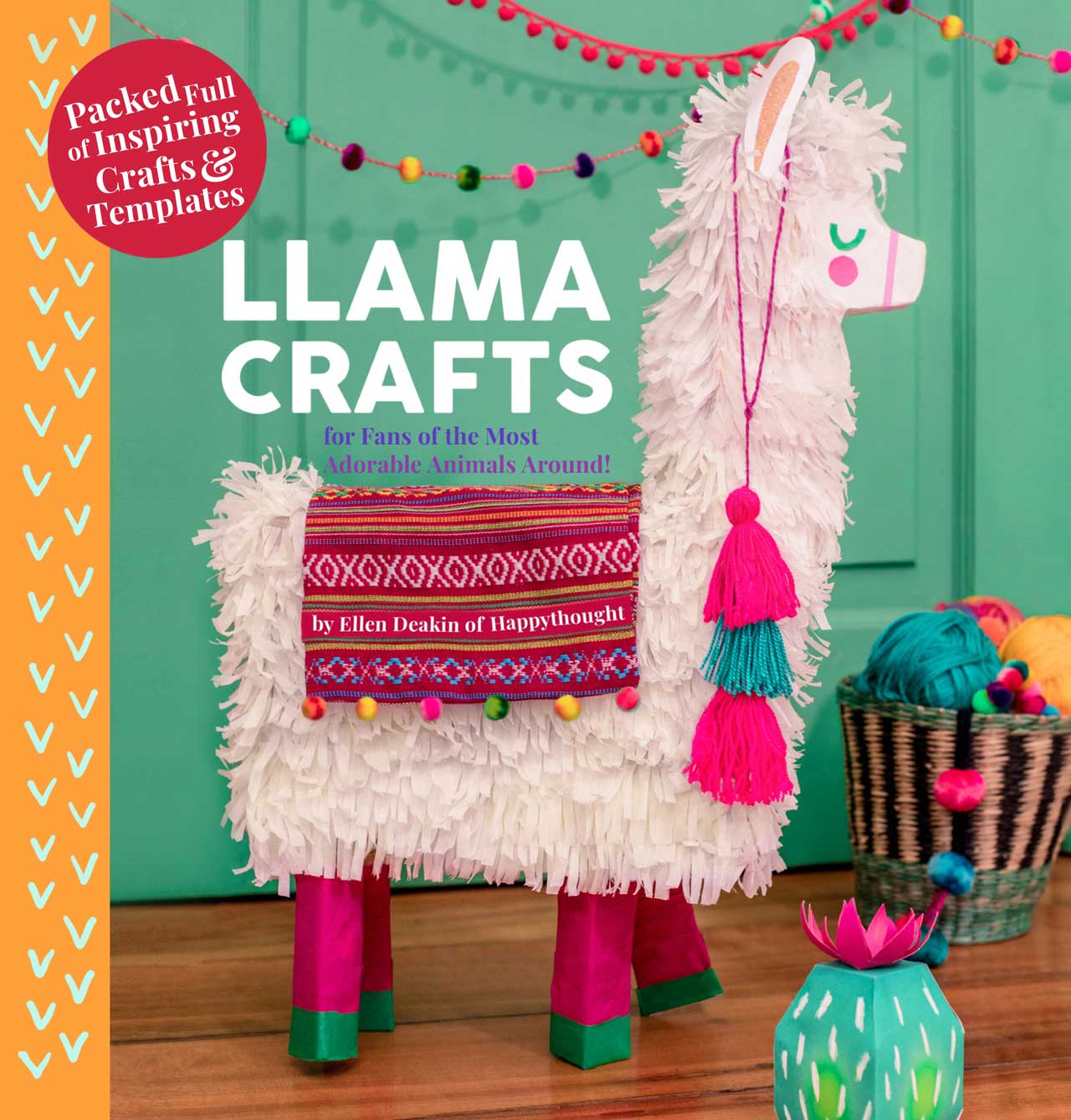 Beginners and experienced crafters can explore a variety of projects. Each of the llama craft projects comes with templates, a list of materials needed and all the inspiration to create your own llama art. There's no shortage of ways that you can use this book. Perfect for activities, gifts, classroom projects and home fun craft decorations.
This colorful craft book is packed full of fun and inspiring diy llama craft projects. It includes instructions and tutorials to make Llama papercraft ornaments, Llama wall prints, Llama finger puppets, Llama plushies, Llama T-shirts, Llama bags, a Llama piñata, DIY Llama necklace and so much more. Our debut printed craft book, Llama Crafts, is published by the wonderful folk at Sky Pony Press. Have a llama-tastic day!
Check out all the fabulous llama crafts featured in this book: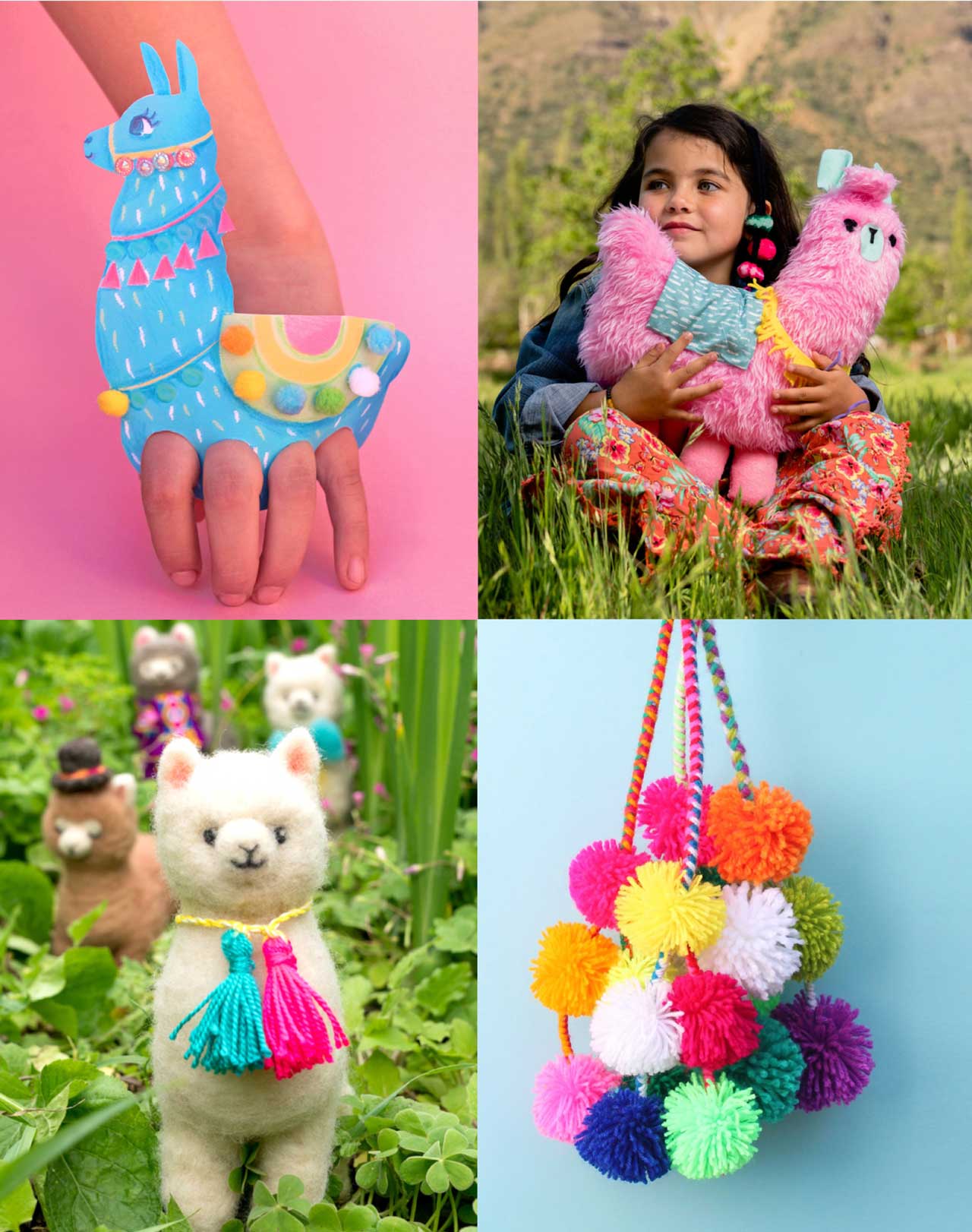 HAPPY LLAMA STAMPERS
Easy to make DIY stamps, using foam sheets from your local craft store. Create your own llama wrapping paper, llama wall art, garlands, llama greeting cards, and more. So creative!
LLAMA WEAVING
These rustic little llamas are fun and easy to make! Make your own llama shaped weaving loom using sticks from your garden, or lolly pop sticks from the craft shop.
PAPER SUN-CATCHERS
These llama sun catchers are fun and easy to make and will look jewel like with the sun shining through, like mini stained glass windows. This is a fun craft activity for younger children.
LLAMA PLUSH
Make your very own adorable llama plush! These cuddly plushies are easy to make and full of charm and character. Add accessories to your llama and dress it up your own way with diy tassels, pom-poms and fabric scraps. So cute!
YARN WRAPPED LLAMAS
Wrap wool yarn around the cardboard template to make these wonderful standing DIY llama ornaments. Experiment with different colors and textures of yarn to create a diverse and colorful family of llamas!
LLAMA NECKLACE
Create these lovely llama charm necklaces using DIY clay charms, wool yarn, tassels and pom-poms. Make DIY llama charms using store bought polymer clay, or make your own salt dough.
LLAMA JACKET
Decorate and up-cycle a jacket to make a unique llama fashion statement! All you will need is a denim jacket, colorful paint and some imagination to give an old jacket a new lease of life! Llamaste!
LLAMA FINGER PUPPETS
This llama craft project is great for little fingers and can provide hours of fun and creative play. You can find the templates for this project in the back of the book, or alternatively create your own llama puppet designs!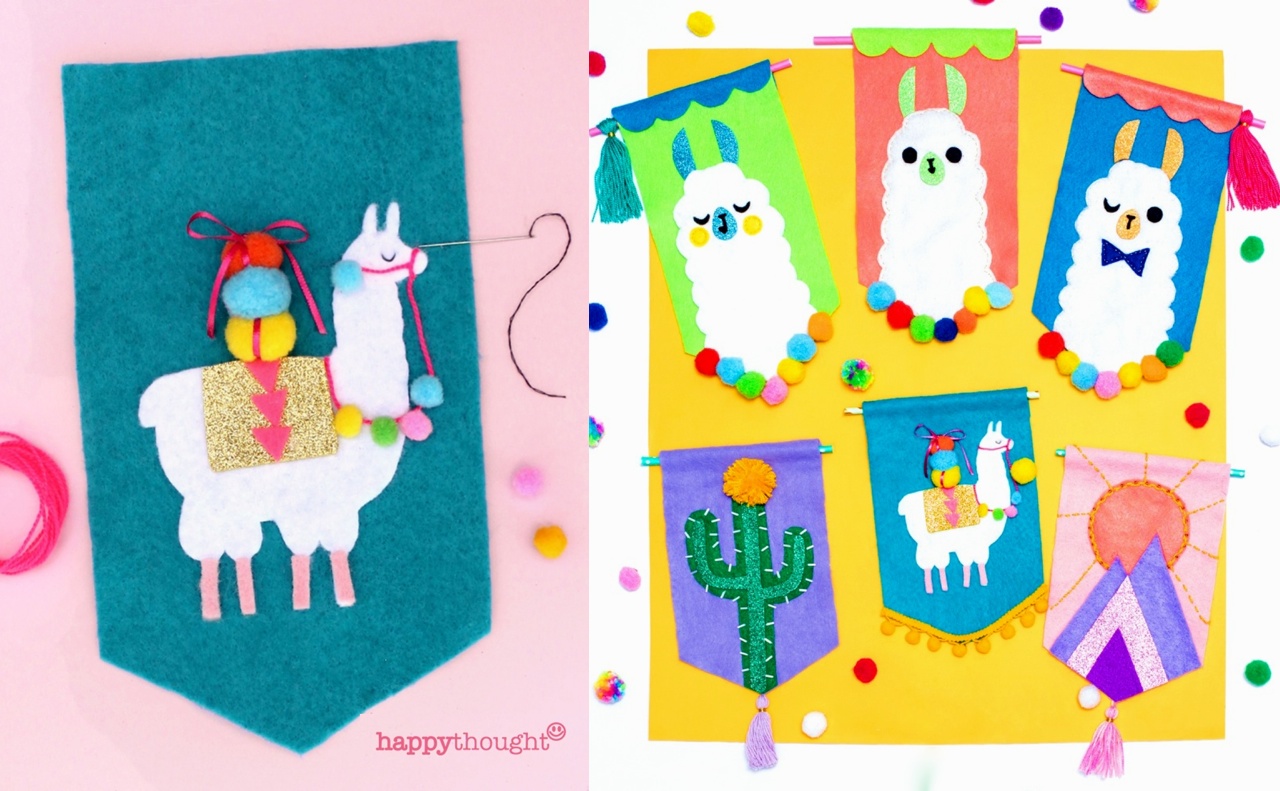 LLAMA PENNANT BANNERS
Why not fill a wall with these lovely llama themed pennant banners? They are easy and fun to make and really lively up a bed room or living room. Add some fun details with glitter, beads and tassels for a really cheery display! Templates include a llama silhouette, cactus and mountains.
NEEDLE FELTED LLAMAS
These adorable llamas are created by sculpting shapes from unspun wool, using special needles to lock the fibers of wool together. Once you get the hang of the technique you can create wonderful llamas in no time at all. Llama love!
LLAMA PINBOARD
Is the llama your spirit animal? You can make your own DIY Llama shaped bulletin board or pin board using cardboard, fabric and ribbon. This is a no-sew project and you probably have most of the materials to hand already in your home!
LLAMA BASKETS
These DIY llama craft baskets are perfect for party favours, special gifts or for storing wool, embroidery thread and ribbons. You can also add a greeting card or label and a adorable little paper tassel, all included in the craft book, along with the llama basket templates.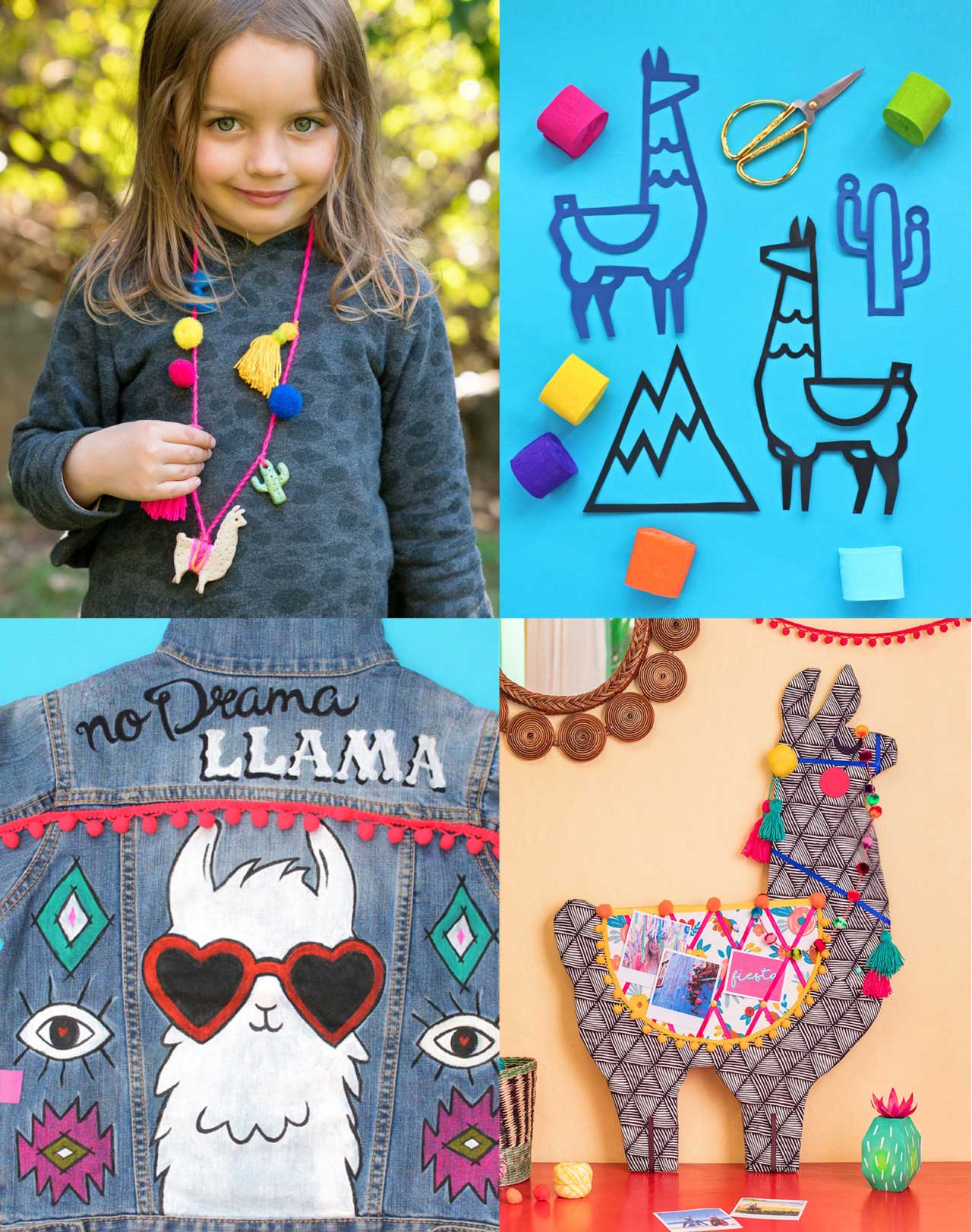 LLAMA TASSEL BAG
Recycle a T-shirt to make this adorable no-sew bag. This is an easy and fun craft project. Customise your llama bag your way, with tassels, pompoms or beads. We love llamas!
LLAMA PIN BROOCHES
These loopy llama pin brooches are super easy to make. You can use the full color llama templates in this book, or colour in the black and white versions your own way. Add pom-poms, gems or glitter. No prob-llama – llama badges are all the rage!
LLAMA PIÑATA
Make your own adorable llama piñata for a fiesta or as a cute decoration for your home. Fill it with candies, treats and confetti, then pull the tassel to release the fun! Piñatas are fun to make – use old boxes to construct your llama, then cover it with fringed crepe paper.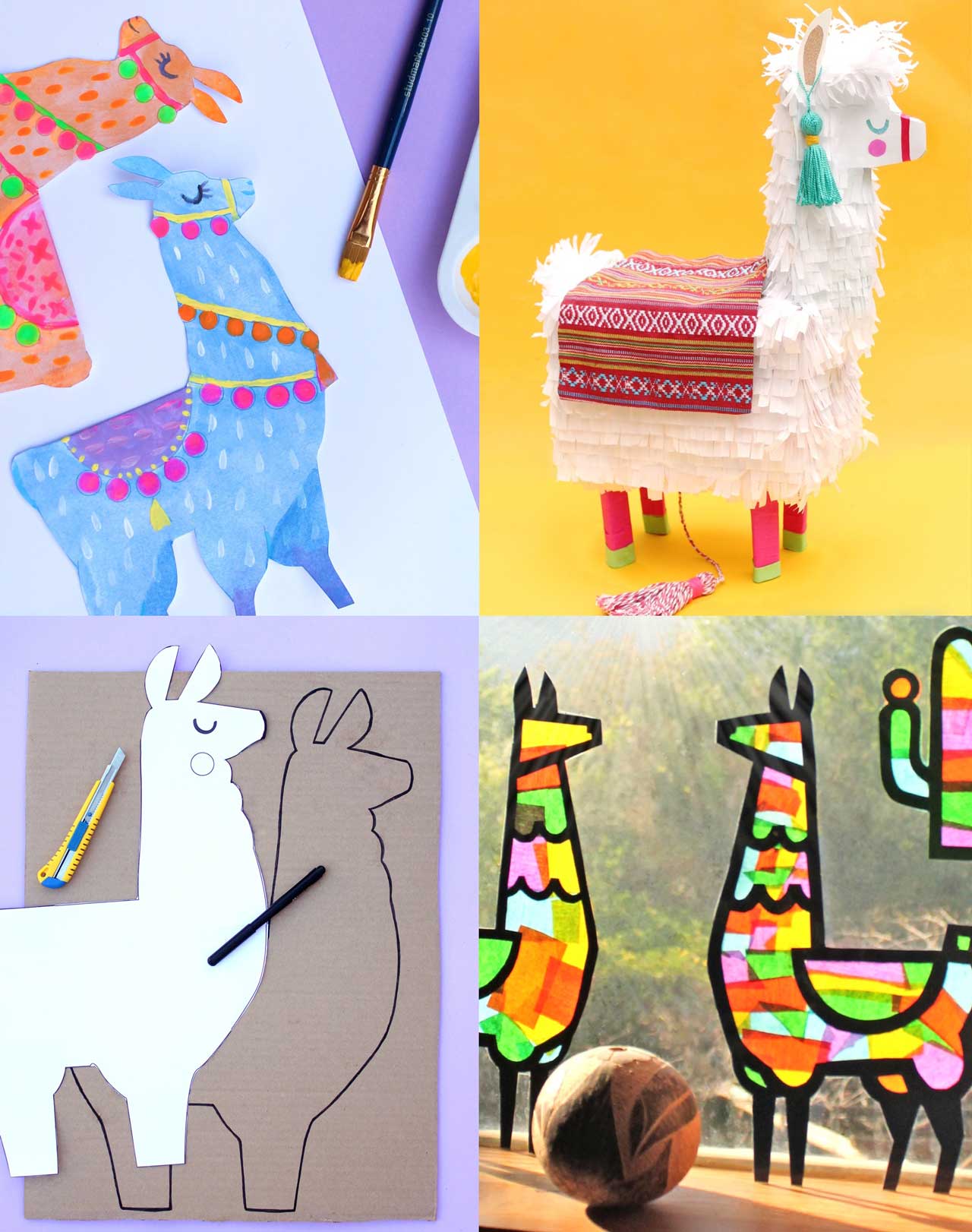 LLAMA GARLANDS
Decorate your home or a party with this adorable llama garland. Paint your own colorful llamas and add tassels and cactus for a vibrant decoration. Store your llama garland carefully and use it year after year!
LLAMA PAPER MASKS
Make a lovely llama mask using the vibrant mask templates in this book, or color in and create your own version using the black and white template! These diy llama masks are easy and fun to make and perfect for a costume party or imaginative play time.
LLAMA ICE-CREAM SANDWICHES
Yummy! Make these delicious llama shaped ice-cream sandwiches for your next fiesta! Decorate them with sweet patterns and colorful sprinkles. Our friend Jo created a delicious cookie recipe for you. The honey makes them chewy and delicious and just the right texture to hold the ice-cream. Llama-tastic!
We also have a Sloth crafts book and Corgi crafts book in the series of Happythought Craft books.
TECHNIQUES for making tassels and pom-poms
The llama craft projects in this book feature a whole lot of colorful diy pom-poms and tassels! There are various techniques for making your own on our site, pineapple pom activity and pom pom ideas. They are so pretty and surprisingly easy and fun to make. All you need is yarn and scissors.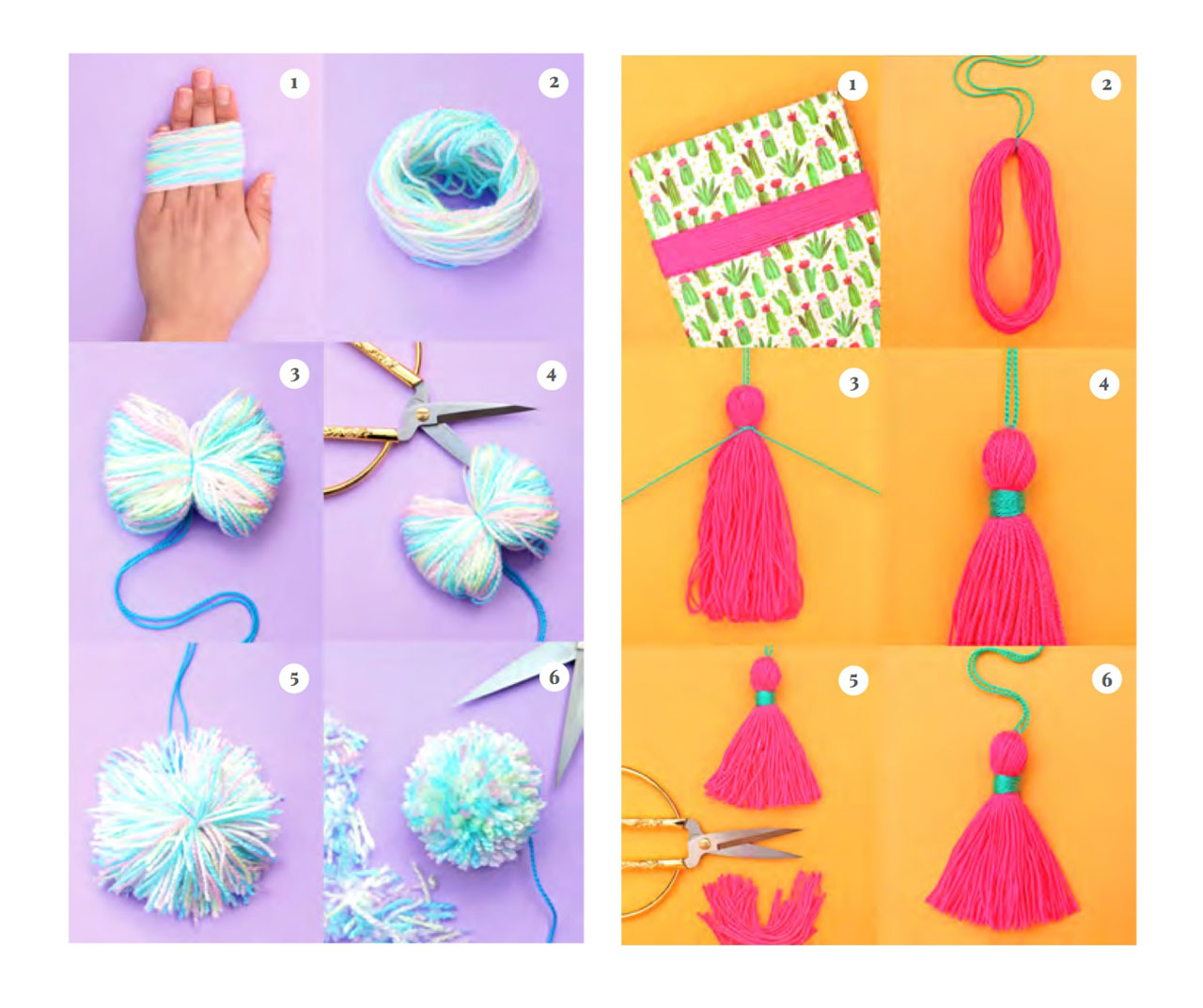 Llama Craft templates in black and white and color
You can find all the templates and patterns for the llama crafts at the back of the Llama Crafts book. The colorful llama templates are ready to cut out and use, so that you can get crafting straight away! The black and white llama templates are for tracing, scanning or photocopying. Have fun!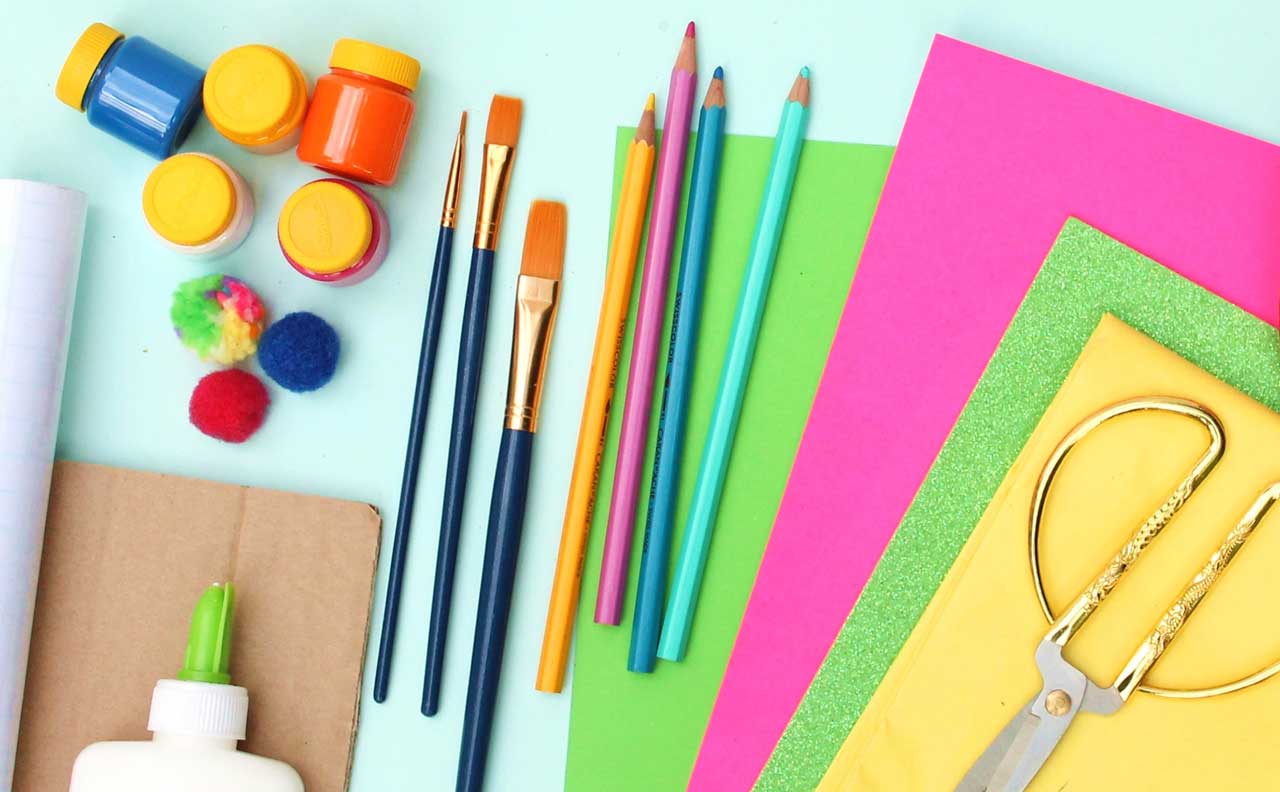 Materials and art supplies needed:
Fabric in various colors
Ribbon
Colorful Felt
Wool yarn for pom-poms
Embroidery thread for colorful tassels.
Embroidery needles
Twine
A sharp pair of scissors
Colorful fabric paint
Cushion stuffing
Crepe paper
Glue stick
White liquid glue
Cardboard
Colored card
Contact film
Colored pens and pencils
Acrylic paint
Paint brushes
Clear tape, masking tape
Foam sheets
Glitter
Check out these other llama crafts and template ideas
SO WHAT IS A LLAMA?
A llama is like a camel without a hump but it also has a woolly coat.
A llama is domesticated – it isn't wild but always belongs to someone.
Where do llamas come from? Llamas come from the high mountains of the Andes in South American countries and most llamas live in or near the Andes. Other countries now breed llamas for their wool, to use as pack animals on ranches, and even as guardians for herds of sheep. Another reason for bringing llamas to other countries is Llama Therapy. Grownups and children can get a lot of help from contact and friendship with a llama!
Why do people keep llamas? In the past and in the mountains llamas were used as pack animals. They are big and strong with flat backs – perfect for loading up with a pack of goods for transport through mountain landscapes! Today llamas are kept and bred for their wool. Llama wool is warmer than sheep wool and less itchy. It is naturally 'hypoallergenic' so less likely to cause allergies.
Why do we love the llama? Could it be their funny faces? They look quite human in some ways, but their big eyes and banana-ears make them look surprised all the time. Then they are woolly in an untidy comic way. Even their movements are comic, although they are fast and powerful as well. They are super-intelligent and can learn routines. They live in close families, just like us. Llamas are so loveable!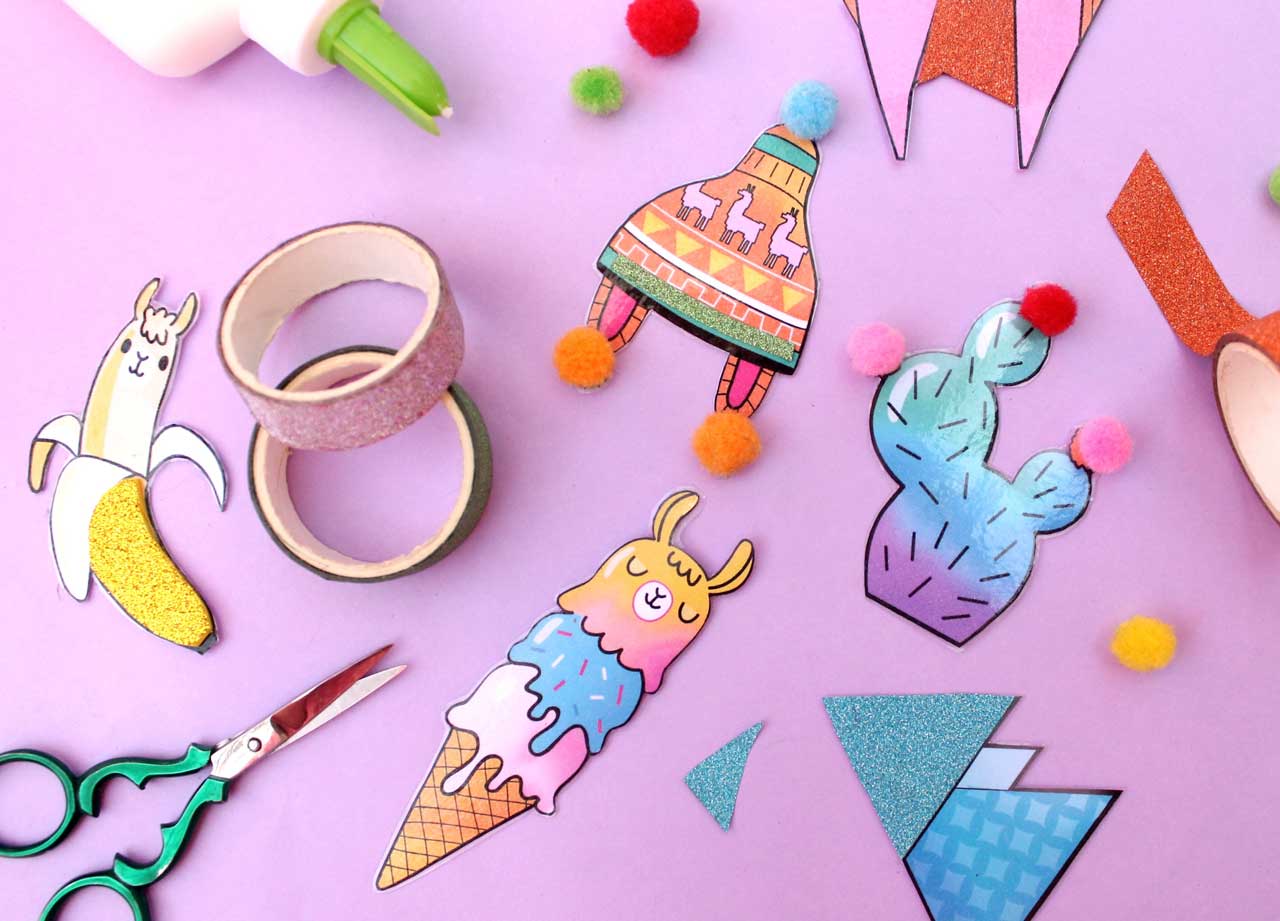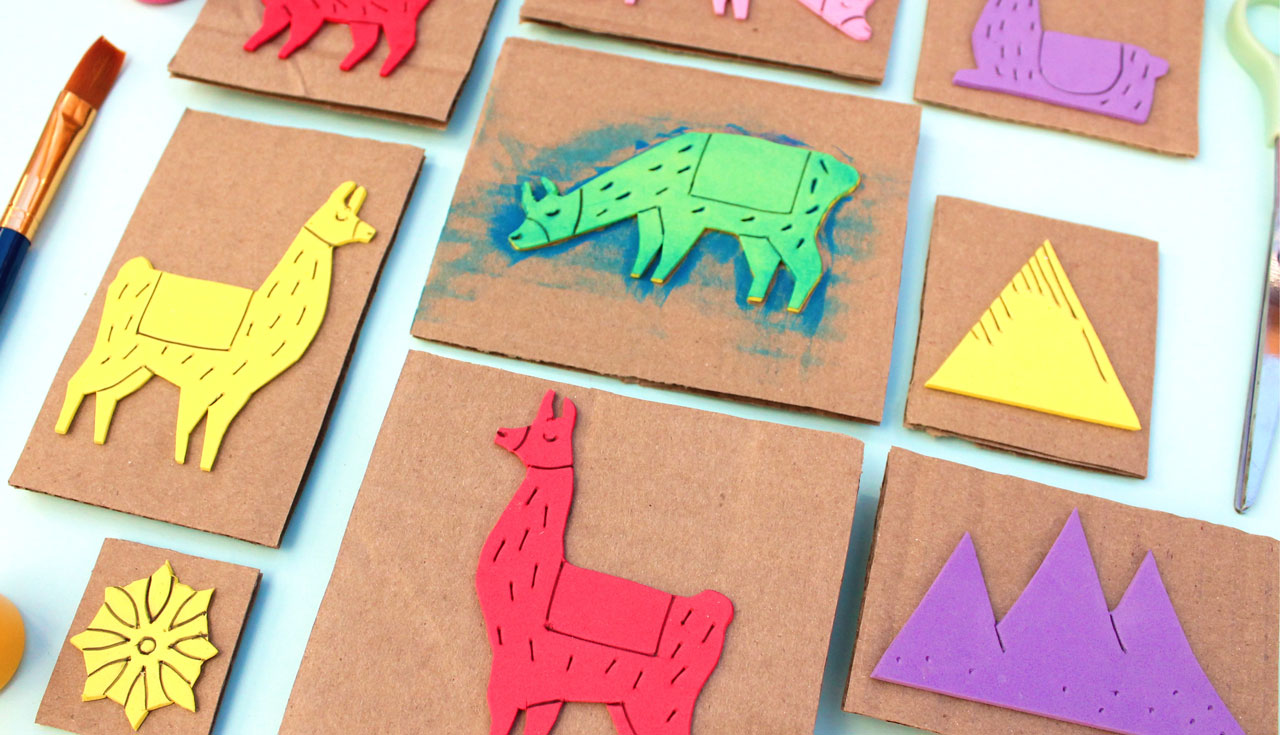 This amazing Llama Crafts book is available to order here: