Description
Make your own printable papercraft llamas: Three llama templates to choose!
Get crafty! Make with these lovely paper llamas!
Make these cool printable llama decorations with this easy to download PDF papercraft templates. The pack features three llama  designs. A red llama with a green face, a pink faced green llama, a cool blue llama with red scarf and red feet.
Exclusive to Happythought CraftClub members
Perfect for the classroom or as a fun family craft activity.
These brand new printable pdf templates are free to download to Happythought Members, a part of the Happythought CraftClub. Members log into my account.
You can join up for Happythought Membership here. You can find lots of fun projects, exclusive to Happythought members, including masks, craft projects, templates, festive decorations and more!
You might also like some of our other great printable templates. Mini DIY papel picado flag decorations, Cinco de Mayo craft activity pack, Day of the Dead Calavera mask templates and our popular Lucha Libre mask set.
Woof woof! Be a Dog. Dog mask templates, DIY deer mask patterns to make, cute cat mask templates and our free to members fox mask pattern and tutorial. The mask templates come with costume idea for each mask.
The dimensions of these paper llama templates are a cute 5 inches tall. Get creative by scaling the templates to fit your ideas and designs.
We also make all our paper craft kits easy to construct. Paper llama templates always come with a cover sheet containing simple instructions to follow. Fun and interesting designs to liven up things a little. A bit of colour always makes a difference.
Llamas and their family members
The llama family consists of llama, guanaco, alpaca and vicuña. The guanaco and vicuña are wild. Living in the mountain ranges and lower slops of the Andes in South America. Llamas and alpaca are more domesticated.
The llama is an intelligent animal and has the ability to learn quickly. Llamas are more closely compared to camels than sheep.
Photos showing llamas with a brown neck and white coat. A black and white spotted dalmation llama. A cow bell wearing pearl white llama with a pink ribbon in her ear.
The rainbow valley in the Atacama desert is located in Chile, where all four members of the llama family can be found.
Llamas and their kind are famous for their soft lanolin-free wool. Llama rugs, sweaters and socks are just a few of the famous products made from llama wool.
More info on the llama family, ideal living habits plus some more great llama images. Visit EOL – Encyclopedia of Life resource.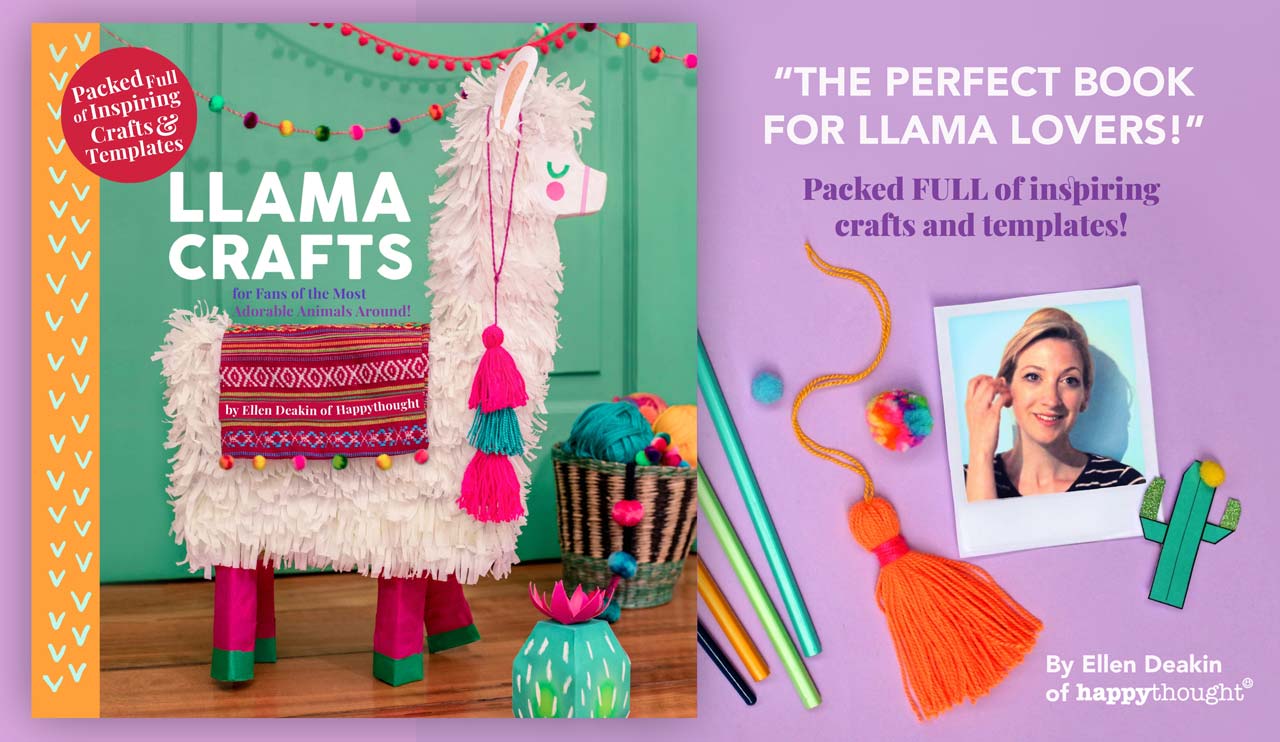 Also be sure to check out this fabulous Llama Craft book by Ellen Deakin at Happythought. Packed full of 18 fun, vibrant and inspiring llama crafts.
---
We hope you enjoy these Happythought printable llama templates. Be sure to join the Happythought CraftClub here to get creating today! If so, please give us a little love; by liking us on facebook, pinning us on pinterest or following us on twitter. Thank you!