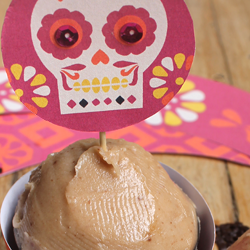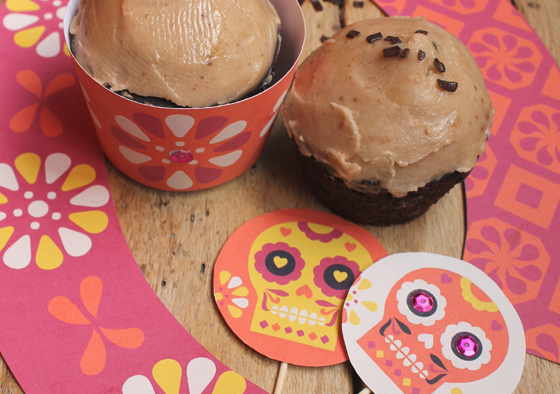 How to make spicy chocolate cupcakes for Day of the Dead
Spice things up with this yummy chocolate cupcake recipe with a hit of cinnamon and cayenne pepper. Make spicy chocolate cupcakes and then finish these little beauties off with El Dia de los Muertos cupcake wrappers and toppers fro our Day of the Dead printable pack.
This recipe makes around 25 cupcakes. If they are for a party, why not bake them a few days before and store them in an airtight container.
Ingredients:
1/2 cup cocoa powder
3 cups plain white flour
2 cups caster sugar
2 teaspoons of baking soda
2 teaspoons of cinnamon
1-2 teaspoons of cayenne pepper (to taste)
1/2 cup vegetable oil
2 cups water
2 teaspoons of vanilla essence
Preparation:
Preheat your oven to 325 F (170 c), gas mark 3.
Mix the flour, sugar, cocoa powder, baking soda, cinnamon and cayenne pepper together in a large bowl. Next add the oil, water, vanilla and stir together until the mixture is smooth.
A few clumps are okay – so don't worry about over mixing.
Spoon the mixture into cupcake liners so that they are 3/4 of the way full, then cook for 15-20 minutes.
Cinnamon Butter frosting
Ingredients:
30 grams or 1 cup butter, room temperature
480 grams or 3 3/4 cups of icing sugar, sifted
3-4 tablespoons of milk
2 teaspoons of vanilla essence
1 teaspoon of cinnamon powder
Preparation:
Cream the butter, vanilla and milk together and beat until fluffy, mixing in the cinnamon powder and icing sugar.
When the cupcakes are completely cool spread or pipe the yummy icing over the top of each cake. Decorate each cupcake with Happythought's Day of the Dead cupcake wrappers and toppers as shown in the photo above and serve!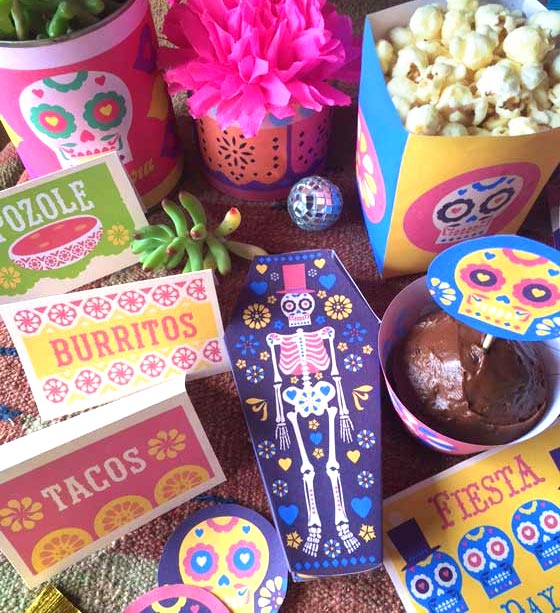 We also have a few bits of party advice, some Day of the Dead games and calavera coloring in pages to make your activity the best!
---
Why not decorate your table with these handy Mexican printable food signs?
There are 99 signs in the pack, featuring popular Mexican dishes and drinks, along with some blank cards to fill with your own favourite recipes!
---
We hope you enjoyed our How to make spicy chocolate cupcakes!
If so, please give us a little love; by liking us on facebook, pinning us on pinterest or following us on twitter. Thank you!
SaveSave
SaveSave