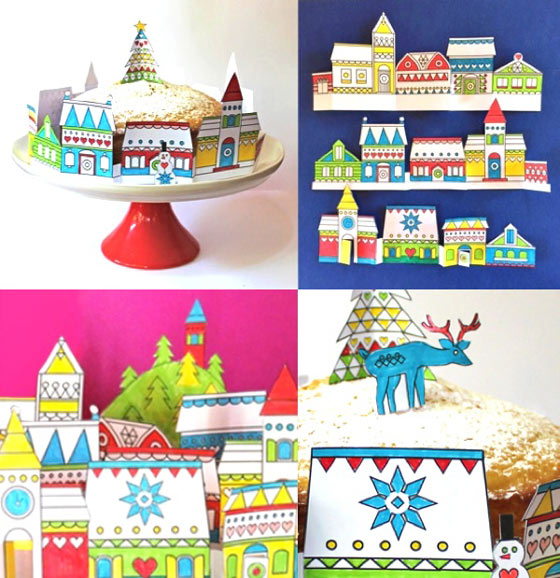 Paper crafts village: Trees, hills, snowmen, shops and houses!
This Holiday make an adorable festive paper crafts village as a play activity and decorations for your table or mantelpiece. The paper village templates include patterns and cutouts for trees, hill, reindeer, snowmen, houses and shops. See the photos below to see how great they look!
The paper craft village activity craft set is ideal for printable kid's crafts, classrooms, home school or family craft days!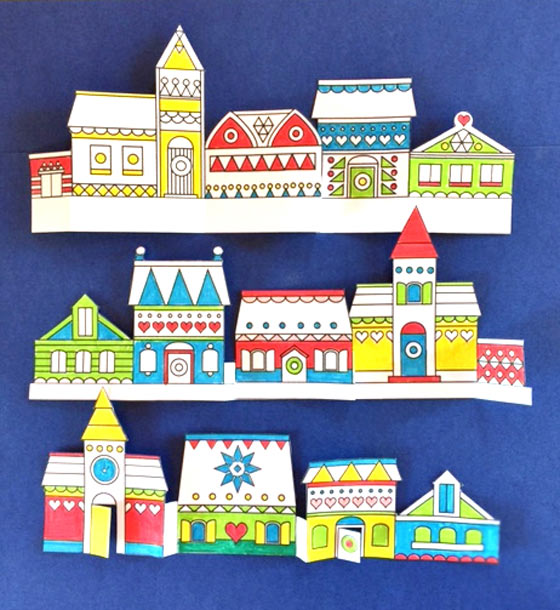 You will need:
Templates from Happythought Holiday craft activity printable pack
Glue
Scissors
How to make you paper craft village play set or decoration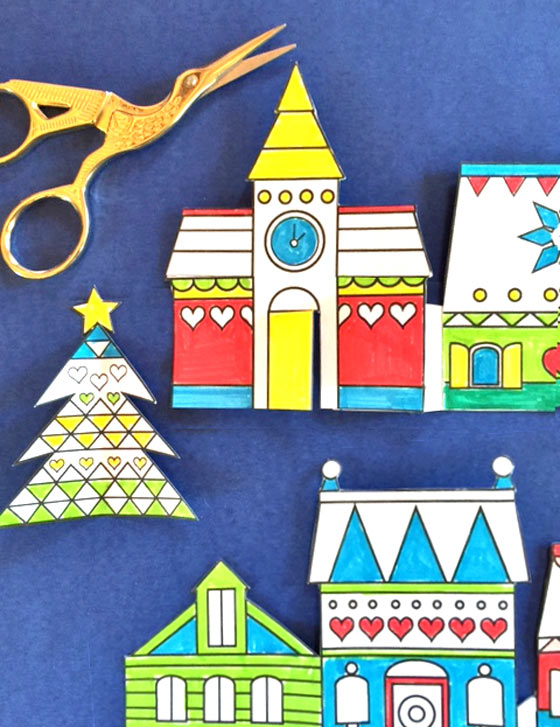 Step 1
Print your village onto a nice card stock (or colored stock)
and cut out your buildings, trees, hill, reindeers & snowmen.
Step 2
Fold the rows of village houses as shown.
Step 3
Cut out doors and windows on row one.
Step 4
Color in the buildings (or leave them uncolored if you prefer!)
and arrange your village as a centerpiece or on your mantel.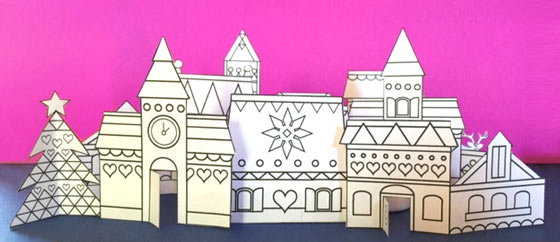 Place battery powered tea light candles among the streets
to create a glow.
---
Check out all these amazing printable craft templates available to buy in our Holiday craft activity kit.
You have 10 different craft activities to choose from: Make your own fascinator hat, papercraft stockings, 3D snowflake, Poinsetta and holly headpiece, Gingerbread house to color in, Holly Robin Wreath and Holiday ornaments including 3D paper pear, star, heart and diamond.
Gingerbread friends, festive Paper Village, snowflake crowns and a cute reindeer mask.
We hope you enjoyed these templates and patterns on how to make a paper crafts village.
If so, please give us a little love; by liking us on facebook, pinning us on pinterest or following us on twitter. Thank you!