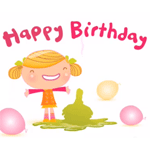 Not everyone can have their own happy birthday cartoon animation. Luckily Polly is here for everyone on their birthdays. She will always be the life and soul of the party.
Everyday Polly has a birthday!
It can get pretty wild when Polly is about. She really knows how to cut a rug and eat birthday cake. That's 2 things that do not mix.
Polly puke was a series of 3 shorts made by Happythought for by 'Pocket Shorts'. A fund to promote animation on handheld devices.
The videos follow the adventures of the one and only Polly Puke. Story and illustration by Ellen Deakin, Animation by Hugo Cuellar and music by Harry Olden.