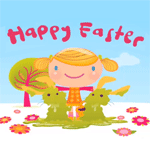 Spring has sprung, bunnies and chicks. We bring you a little Easter cartoon animation featuring our cute friend Polly Puke. Dancing and singing through nature, enjoying finding delicious chocolate eggs hinden by Mr. Easter Bunny. Yum Yum!
Easter cartoon Animation Fun
Polly puke was a series of 3 shorts made by Happythought for by 'Pocket Shorts'.
Promoting animation on handheld devices. The videos follow the adventures of the one and only Polly Puke. Story and illustration by Ellen Deakin, Animation by Hugo Cuellar and music by Harry Olden.