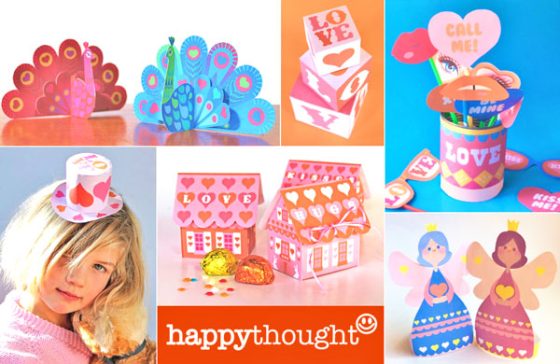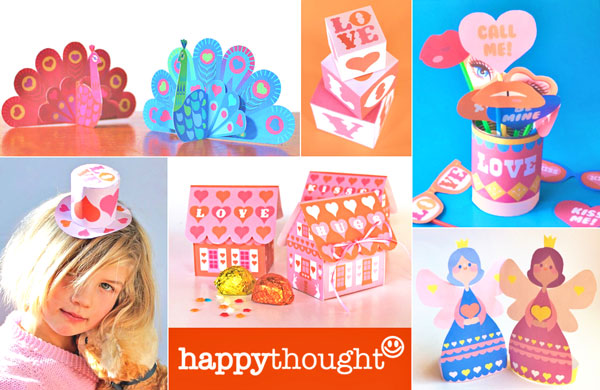 Cute Valentines day craft kit. Instantly download 7 printable Valentines craft ideas and templates
We are feeling the love here at Happythought and to show it we've put together an adorable Valentines Day printable craft kit!
The kit includes lots of goodies – seven fun projects, including peacock ornaments and fairies (they both come with color-in versions and envelopes so you can send one to a special someone), fun photo props, gift boxes, can labels and flags to make a Valentines centrepiece, and an adorable mini top hat!
All seven projects are fun and easy to make and come with full instructions. All you'll need is scissors, sticky tape  and a glue stick.

Perfect for family craft time or as a classroom activity.
Little Fairies
5 fairies to cut out and make. This set also comes with a color-in version and an envelope so you can send your fairy to someone special!
House of Love gift boxes
4 cute little cottages for Valentines day.
2 sizes – 8×5.2×6.5 cm and 11.5×7.5x9cm.
Photo props
Fun photo props for a valentines party or photo shoot!
Lips, hearts and glasses, also perfect as cupcake toppers.
Tin can labels
Create a cute and romantic centrepiece with these tin can labels.
Just print and cut out and you are ready to wrap them around an empty tin can or coffee tin!
Head on over to our paper flower tutorial here and fill your tins with colorful blooms!
LOVE gift boxes
3 lovely little cubes, perfect for a special or romantic gift.
4.8×4.8cm, 6x6cm. 8x8cm.
Mini LOVE top hats
Taken from our popular top hat set, this cute little hat will set your valentine outfit off to a tee! If you are having a party why not make them for all your guests? Or set up a DIY table and they can make their own!
Peacocks
Also a Happythought favorite, these adorable peacocks are fun to make and the kit also includes colour-in version!

Valentines Day facts
The red rose was the favorite flower of Venus, goddess of love.
More than thirty-five million heart-shaped boxes of chocolate are sold on Valentine's Day each year.
Eighty percent of Valentine's cards are purchased by women.
We hope you enjoyed this printable Valentines Day craft set!
If so, please give us a little love; by liking us on facebook, pinning us on pinterest or following us on twitter. Thank you!