NEW Printable Mexican Lotería game - in Spanish and English!
From: "Happythought mailing list" <happythought@happythought.co.uk>
Subject: NEW Printable Mexican Lotería game - in Spanish and English!
Let's play Lotería!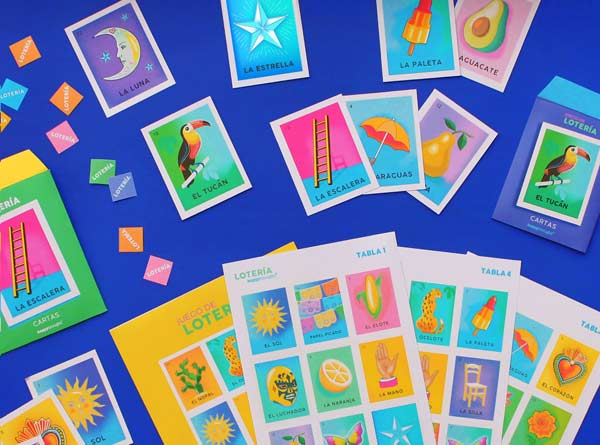 Print and play a game of Mexican Lotería with this vibrant set of lotería cards and boards - ready to download and print now!
We are excited to present Happythought's brand new Lotería Game, a printable game set inspired by traditional Mexican Lotería. Ready to print and assemble, this vibrant printable Lotería set comes with envelopes so that you can store and treasure your set to play again and again. With instructions and caller cards in English and in Spanish!
The printable lotería set includes:
• 20 tabla boards
• 27 picture cards
• 2 pages of lotería calls
• 3 envelopes to store your lotería game
• Easy to follow instructions in English and Spanish
This Mexican loteria printable game is half price for Happythought Members, so if you are a Happythought Member, just log in and add these brand new templates to your basket here!
Have fun!
Ellen and Harry x
Happythought
---
P.s. If you are looking for more fun craft activities, remember to check out Happythought's Craft books, packed with step-by-step crafts and templates! Available at Amazon and other online retailers now.
LLAMA CRAFTS by Ellen Deakin of Happythought - 18 fun Llama-themed crafts and activities.
SLOTH CRAFTS by Ellen Deakin of Happythought - 18 fun Sloth-themed crafts and activities.
---
Here's how...
Follow the steps below:

1. Hit the 'Add to basket' button to add Happythought Membership to your cart.

2. Choose your payment details and purchase your membership.

3. Nearly there! To create your Happythought members account register here and create a password.

4. Now log in to the Happythought members area using your new password. Hooray! You can now download all or any of the free templates in the CraftClub library and take advantage half price offers.
---
P.p.s. We are currently soft launching a brand new Happythought Lifetime Membership, which gives members access to ALL Happythought templates in store for free, forever! If you have read this far, congratulations! You have discovered the secret discount code - LIFETIME - which will give the first 100 applicants a whopping 90% off Happythought Lifetime Membership! That's right, instead of the usual fee of $25, you can join up or upgrade your existing membership for just $2.50! Yippee! Just a little something to show that we appreciate you and to say thanks for crafting with Happythought! xxx
Just click here!
This mailing list is a public mailing list - anyone may join or leave, at any time.

This mailing list is announce-only.
Join the list to stay in touch with the latest products releases, promotions and freebies from Happythought.
Privacy Policy:
We will not share any of your details with anyone or any third party.