Hooray! It's Cinco de Mayo!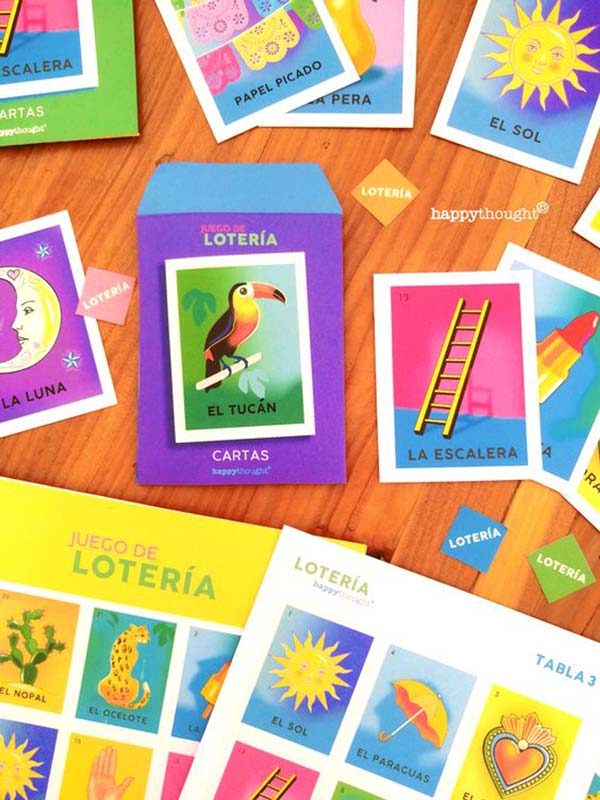 Let's play Lotería!
How about a game of Lotería to celebrate Cinco de Mayo? Ready to print and assemble, this vibrant printable Lotería set comes with envelopes so that you can store and treasure your set to play again and again. With instructions and caller cards in English and in Spanish!
The Mexican lotería printable game is half price for Happythought Members, so if you are a Happythought Member, just log in and add the templates to your basket here!
Have fun!
Ellen and Harry x
Happythought
---
P.s. If you are looking for more fun craft activities, remember to check out Happythought's Craft books, packed with step-by-step crafts and templates! Available at Amazon and other online retailers now.
LLAMA CRAFTS by Ellen Deakin of Happythought - 18 fun Llama-themed crafts and activities.
SLOTH CRAFTS by Ellen Deakin of Happythought - 18 fun Sloth-themed crafts and activities.
---
Here's how...
Follow the steps below:

1. Hit the 'Add to basket' button to add Happythought Membership to your cart.

2. Choose your payment details and purchase your membership. Remember to add the discount code HAPPY.

3. Nearly there! To create your Happythought members account register here and create a password.

4. Now log in to the Happythought members area using your new password. Hooray! You can now download all or any of the free templates in the CraftClub library and take advantage half price offers.