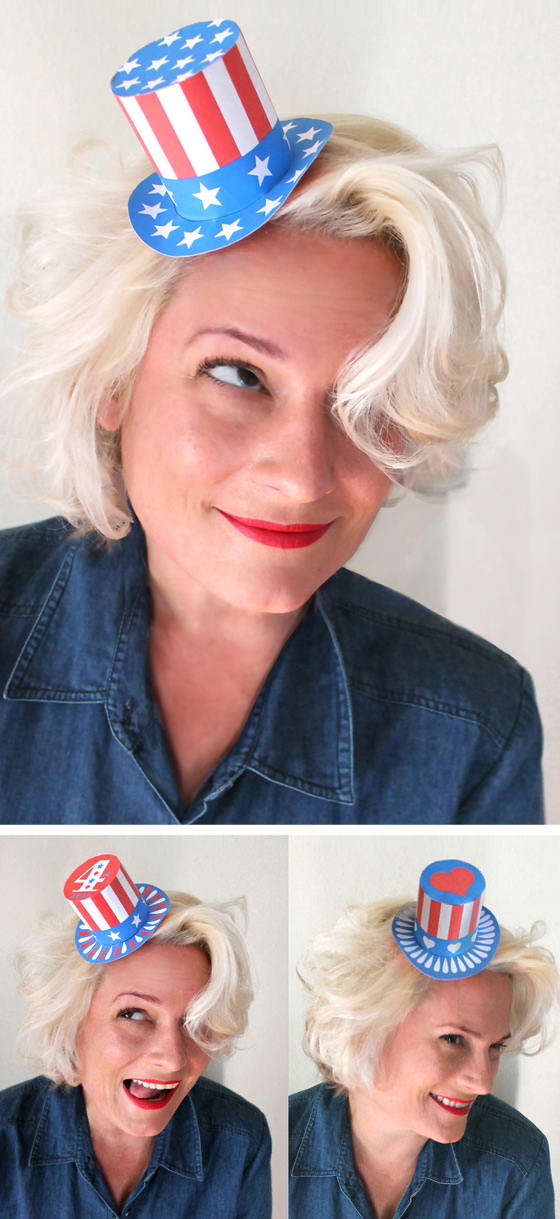 July 4th crafts: Paper mini top hats for the big celebration!
"We hold these truths to be self-evident, that all men are created equal."
― Thomas Jefferson, The Declaration of Independence
To celebrate the Fourth of July here at Happythought we have put together three stars and stripes mini top hats. Yes, we know we are Brits and that you are celebrating independence from us, but we are all friends now and who can resist fireworks, family get togethers and barbecues?
We were inspired to get in on the party by our US cousin Kari (pictured above), who is always the life and soul of any occasion. Where she's at is the place to be, so Happy Birthday USA, we hope you don't mind us crashing your celebration!
Download your own July 4th mini top hat templates!

Join Happythought mailing list to receive your July 4th mini top hat templates. It's easy!
Just fill in your details below
Click the Submit button
We will instantly email you back your templates!
We won't share your details with anyone and you can unsubscribe from the Happythought mailing list at any time.
Please read our
Privacy Policy
Fourth of July fun facts:
July fourth is America's biggest secular (non-religious) holiday.
155 million hotdogs will be eaten in the US over the July 4th weekend.
Montana is the state that consumes most beer over the July 4th weekend.
The stars on the original US flag were arranged in a circle, so that all colonies were equal.
The US flag is also known as 'Old Glory'.
The current version of the flag with 50 stars was designed by a seventeen year old high school student in 1958, who only received a B- for his efforts.
July 4th crafts: Your PDF template sheets (Instructions included in the download)

Paper hat dimensions

Have fun making your own stars and stripes mini top hats and involve all the family or even use the kit at a party or part of a class room activity about Independence Day.
All you will need is our mini top hat templates, scissors, a glue stick and some sticky tape. You can make and print as many mini hats as you like, so why not give them to all your neighbours at this year's Fourth of July parties and they will go off with a real bang!
Check these other Mini top hats. Available to instantly download from our shop!