8 STEM activities to stimulate young minds!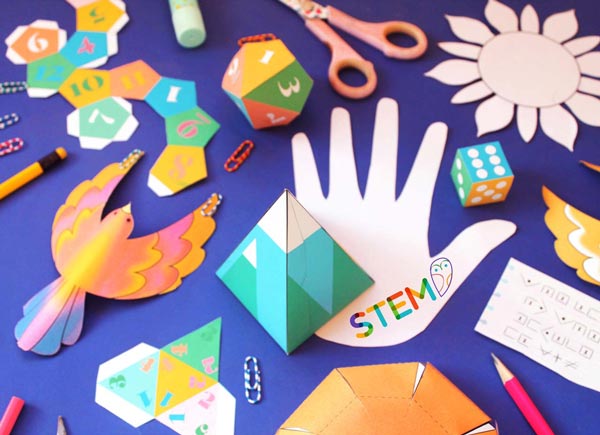 8 inspiring STEM projects and worksheets
This printable STEM set features 8 creative projects with templates and worksheets, designed to help develop key skills such as problem solving and critical analysis in an entertaining and creative context.
STEM is an approach to learning that integrates areas of science, technology, engineering and mathematics. STEM empowers children with practical knowledge and understanding which can be implemented in the world around them. These worksheets are primarily designed for elementary and middle school children, but can also be beneficial and fun for both older and younger children.
Best of all for 1 week only, this printable worksheet set is FREE for Happythought Members using the DISCOUNT CODE - HAPPYSTEM. That's over 50 pages of templates and worksheets for free!
This STEM project set includes:
1. Parachutes - Explore the forces of gravity, weight and air resistance.
2. Dice - Make your own polyhedral dice set and explore statistics and chance.
3. Codes and Ciphers - Learn to encrypt and decrypt your own secret messages.
4. Amazing Balancing Bird - Experiment with balance and mass.
5. Magic Squares - An ancient mathematical puzzle.
6. Magic Hand - A fun kinetic experiment using paper and water.
7. Pick the Elixir - Work out which glass will fill first to win the Wizard's prize.
8. Coding Robot - Learn about basic coding and steer the robot through the maze.
Don't forget, for 1 WEEK only, this printable STEM set is FREE to download for Happythought Members using the discount code HAPPYSTEM. Offer ends July 10th 2020!
So if you are a Happythought Member just log in and add the worksheets to your cart here.

Happy learning,
Ellen and Harry x
Happythought
---
P.s. If you are looking for more fun craft activities, remember to check out Happythought's Craft books, packed with step-by-step crafts and templates. Available at Amazon and other online retailers now.
LLAMA CRAFTS by Ellen Deakin of Happythought - 18 fun Llama-themed crafts and activities.
SLOTH CRAFTS by Ellen Deakin of Happythought - 18 fun Sloth-themed crafts and activities.
---
Here's how...
Follow the steps below:

1. Hit the 'Add to basket' button to add Happythought Membership to your cart.

2. Choose your payment details and purchase your membership.

3. Nearly there! To create your Happythought members account register here and create a password.

4. Now log in to the Happythought members area using your new password. Hooray! You can now download all or any of the free templates in the CraftClub library and take advantage half price offers.
---