For all the Super Moms this Mother's Day!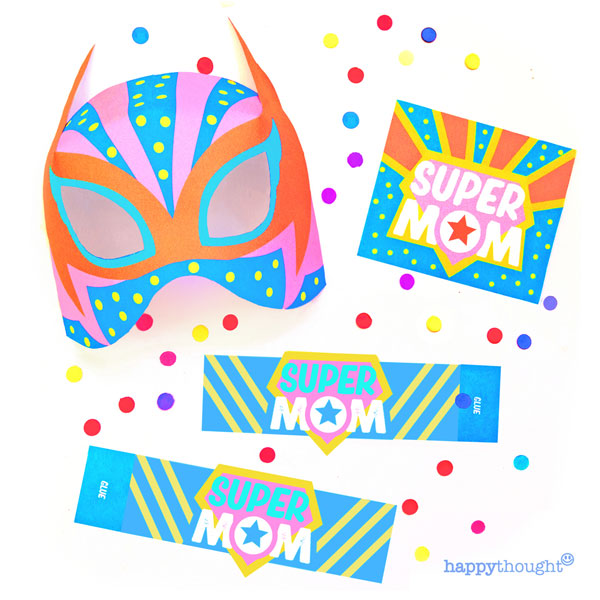 Make a Super Mom! mask and card set!
For the Super Mom(s) in your life! A perfect card and gift for Mother's Day or for Mom's Birthday, this printable Super Mom mask is lots of fun to make and give and to receive. Because all Moms are Super!
This free-for-members set includes:
• Super Mom! Mask and Cuffs
• Super Mom! greeting card and envelope
• Color-in Super Mom! set to decorate your own way
• Bonus Super Mum! and Super Mamá! mask and card sets
This Mother's Day set is free to download for Happythought Members, so if you are a Happythought Member just log in and add the free templates to your cart here.
Happy Crafting!
Ellen and Harry x
Happythought
---
P.s. If you are looking for more fun craft activities, remember to check out Happythought's Craft books, packed with step by step crafts and templates! Available at Amazon and other online retailers now.
LLAMA CRAFTS by Ellen Deakin of Happythought - 18 fun Llama-themed crafts and activities.
SLOTH CRAFTS by Ellen Deakin of Happythought - 18 fun Sloth-themed crafts and activities.
---
Why not become a Happythought Member for just $5 with the discount code HAPPY?
Because happy kids means happy parents!
Here's how...
Follow the steps below:

1. Hit the 'Add to basket' button to add Happythought Membership to your cart.

2. Choose your payment details and purchase your membership. Remember to add the discount code HAPPY.

3. Nearly there! To create your Happythought members account register here and create a password.

4. Now log in to the Happythought members area using your new password. Hooray! You can now download all or any of the free templates in the CraftClub library and take advantage half price offers.