Cinco de Mayo crafts and activities - templates to download and print
From: "Happythought mailing list" <happythought@happythought.co.uk>
Subject: Cinco de Mayo crafts and activities - templates to download and print
Make a paper flower crown!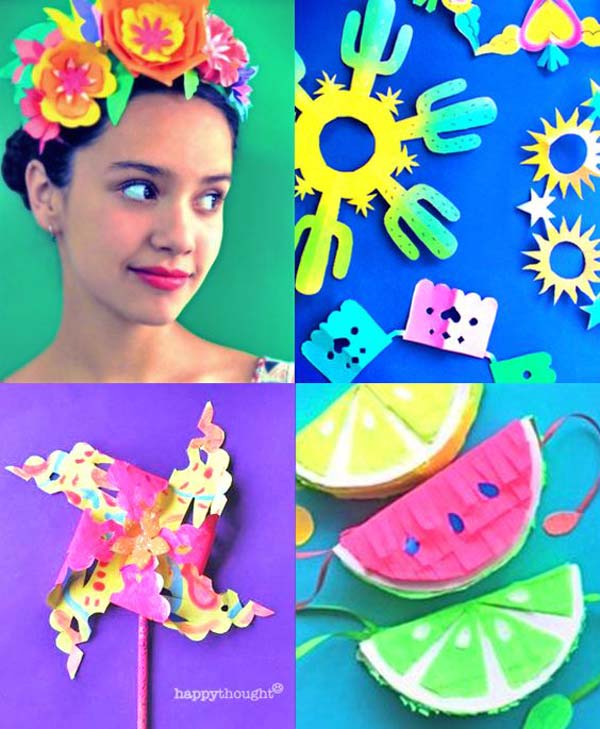 Looking for craft and activity ideas for Cinco de Mayo?
Why not try our Cinco de Mayo printable craft pack? Inspired by the wonderful imagery and crafts of Mexico's Cinco de Mayo festivities, this kit is full of wonderful craft templates - make a paper flower crown, paper star decorations, otomi animals and more! Instantly download the color and b&w PDF templates - perfect for fun and educational art and craft activities, with easy to follow instructions.
Best of all, this Cinco de Mayo craft activity pack is half price for Happythought Members, so if you are a Happythought Member, just log in and add the templates to your basket here!
Have fun!
Ellen and Harry x
Happythought
---
P.s. If you are looking for more fun craft activities, remember to check out Happythought's Craft books, packed with step-by-step crafts and templates! Available at Amazon and other online retailers now.
LLAMA CRAFTS by Ellen Deakin of Happythought - 18 fun Llama-themed crafts and activities.
SLOTH CRAFTS by Ellen Deakin of Happythought - 18 fun Sloth-themed crafts and activities.
---
Because happy kids means happy parents! Here's how...
Follow the steps below:

1. Hit the 'Add to basket' button to add Happythought Membership to your cart.

2. Choose your payment details and purchase your membership.

3. Nearly there! To create your Happythought members account register here and create a password.

4. Now log in to the Happythought members area using your new password. Hooray! You can now download all or any of the free templates in the CraftClub library and take advantage half price offers.
This mailing list is a public mailing list - anyone may join or leave, at any time.

This mailing list is announce-only.
Join the list to stay in touch with the latest products releases, promotions and freebies from Happythought.
Privacy Policy:
We will not share any of your details with anyone or any third party.